Refrigerator Repair in San Diego
Any refrigerator owner can order repairs from the Home Appliance Service Center. We help ordinary homeowners and commercial customers. Our technicians repair old models of equipment and new models in the American market. We are able to restore refrigerators with different technical characteristics. In addition, specialists work with appliances from all popular manufacturers. Order Refrigerator Repair in San Diego, CA and get a quality guaranteed repair!
You can use San Diego Refrigerator Repairs from our company if you want to spend a minimum of time on repairs. One of the priorities of technicians is to complete tasks quickly. We are great at urgent repairs. In 90% of cases, technicians cope with their tasks on the same day. You will need to wait just a few hours. After that, you will be able to fully use your equipment.
We have more great news for people who want to order Refrigerator Repair in San Diego, CA. You won't have to wait long for help. Only in 5% of cases the repair is postponed to the next day. Usually, our specialist is ready to start work within a few hours after the call.
Of course, our other priority is the quality of the repair. If you order San Diego Refrigerator Repairs, you will receive a 90-day warranty. You can be sure that the technician will bring his work to a successful end. If there is any problem in the future, we will definitely help you. If there is a warranty case, the repair will be carried out free of charge. After the repair is completed, you will receive an official document entitling you to such a warranty.
Practice shows that the owners of refrigerators don't experience any problems after our repair. This is a consequence of not only the great experience of specialists. We are taking a very responsible approach to the technical side of the issue. Technicians carry out Refrigerator Repair in San Diego, CA using original parts. We use only certified spare parts and equipment for diagnostics and repairs.
The most common refrigerator breakdowns
As a foremost appliance repair service provider in the city of San Diego, we possess an acute understanding of the prevailing challenges encountered by equipment owners. Leveraging our extensive experience spanning two decades, we have meticulously compiled an exhaustive repository of commonly recurring issues. Whether the predicament concerns a malfunctioning refrigerator, a defective washer, or any other appliance-related anomaly, rest assured, we possess the acumen and proficiency to promptly and effectively rectify these breakdowns.
You may confidently entrust us with the responsibility of delivering dependable solutions, fortified by our profound and seasoned industry expertise. We invite you to reach out to us at your earliest convenience, allowing our seasoned professionals to expertly attend to your appliance repair requisites.
The walls of the refrigerator have become warm.

The refrigerator is not capable of cooling food well.

The temperature is not kept at the same level. It changes spontaneously from time to time.

The kitchen smells of smoke while the refrigerator is in operation. In this case, you need to urgently order 

San Diego Refrigerator Repair.

Further use of the refrigerator is prohibited.

A layer of ice forms on the freezer walls.

The display doesn't work.

Some buttons don't work.

Water is leaking from the refrigerator.
The equipment works without pauses. You constantly hear the corresponding noise.
Whatever problem you have, order Refrigerator Repair in San Diego, CA. Our specialists carry out services in your area of any complexity. Practice shows that the experts of our company can eliminate literally any breakdown.
How to use the services of our company
If you want to order San Diego Refrigerator Repair and Service, you need to contact us by phone. Use the phone number that you can find on the site. You can order repairs on weekdays, weekends and holidays. You can also order repairs from the Home Appliance Service Center by filling out the feedback form. Leave your details here. Our specialist will contact you shortly. We do our best to respond very quickly to customer requests.
Main Reason to Choose Us
We've been repairing household appliances since 2001. Our experience is your guarantee of quality. We are ready to come to you on the same day and inexpensively carry out high-quality repairs. We use only original spare parts!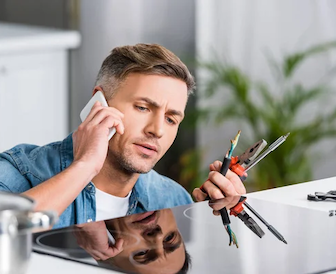 Labor Guaranteed
We provide a 90-day warranty on every repair for every client.

Same Day Service
We carry out repairs on the same day you call us in 95% of cases.

Licence & Insured
Each repairman who works for us has a license and insurance.
Get in Touch
If you need appliance repair services in San Diego County, simply fill out the online form, and one of our representatives will be in touch right away.