Wine Cooler Repair Service
For wine lovers, it is obligatory to care for saving all that multifaceted palette of tastes pristine. The talk is about a special, narrow-purposed appliance, which creates perfect surroundings for this beverage, a wine cooler. Home Appliances Service Center admires each wine lover and aims to help every collection be stored right. If it happens that your appliance stopped working properly, apply to our service center sooner! We conduct the most professional Wine Cooler Repair in San Diego County. And we proceed with it at the best price, the highest quality, and in the shortest terms.
Even while these items are not widespread, our technicians are qualified enough to conduct any Wine Cooler Repair and Service. No matter what model from what manufacturer you have. We cope with any private or commercial, old or brand new, budget or luxury wine coolers. 
We have been working with various household electronics for over 20 years so far. In this term, we have learned exactly all processes, constructions, and subtleties of these appliances. Plus, our technicians have regular training to refine their skills and qualification in all types of Wine Cooler Repair. Thus, any troubles, which may happen to these devices, are resolved in no time, and the result is always perfect! 
There are many signs from your item which mean that you need to apply for Wine Cooler Repair. The most common troubles with these items are:
You cannot turn it on.

The temperature is too high or too low, and you cannot set it to a proper level.

The humidity level is too high, so you notice corks and labels getting wet.

Water or refrigerant is dripping/leaking inside/outside the unit.

Interior bulbs or exterior indicators are not working.

Unusual loud vibrations or sounds, like humming or bubbling.

Buttons, knobs, handles, bearings, leveling feet, belts, shelves, or other body parts require replacement.

Malfunctioning compressor, thermostat, evaporator, starter, capacitor, sensors, Peltier modules, process control block, or fan.

Dust, debris, or ice blocks condenser coils, fans, or ventilation.

Spoiled wires, isolation, or plug make the electricity supply unstable.

The door has defective seals, hinges, joints, locks, latches, or switches.
As soon as you call us and explain the situation, it will be clear what our plan is next. It may be enough to follow the advice of our technician to solve some minor issues. Or on the contrary, it may happen that Wine Cooler Repair and Service is ineffective or rational in your case. And we can help with picking a new wine cooler, according to your needs and budget. 
In most cases, after consultation or remote diagnostics, we clarify the condition of the appliance and plan for its repair. It also helps to count the approximate cost of work and set the time when our specialist arrives to you. In the absolute majority of situations, all works are completed the same day you applied. For even sooner assistance or during non-working periods, you may ask for urgent services anytime for a slightly higher payment. In any case, our prices for all Wine Cooler Repair and Services are favorable and fair. Plus, we always inform you what exactly you are paying for.
All our specialists have fluency, amazing skills, the highest level of responsibility, accuracy, and a friendly attitude. Together with selected professional equipment, tools, materials, and original spare details, it always ensures flawless quality. This is why we confidently back up each Wine Cooler Repair with a long-term warranty. Our reliability is also proven by lots of our satisfied clients. They recommend us to friends, go on applying to us, and post numerous positive comments on Google.
If any breakage or malfunction happened, just call us and get advice or apply for Wine Cooler Repair and Service. By contacting Home Appliances Service Center, you get the most qualified help at an affordable price. Our team will gladly resolve any issues, so you enjoy a glass of wine at a perfect temperature really soon!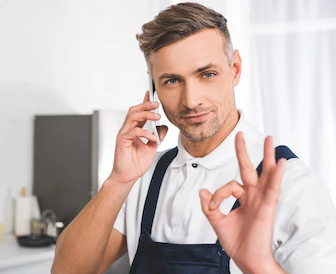 Main Reason to Choose Us
We've been repairing household appliances since 2001. Our experience is your guarantee of quality. We are ready to come to you on the same day and inexpensively carry out high-quality repairs. We use only original spare parts!

Labor Guaranteed
We provide a 90-day warranty on every repair for every client.

Same Day Service
We carry out repairs on the same day you call us in 95% of cases.

Licence & Insured
Each repairman who works for us has a license and insurance.
Choose the brand of your Wine Cooler
We repair all popular models of residential appliances from major brands. Find your Wine Cooler brand in the list below and click on it for helpful information. Call us or fill out the feedback form, and our repairman will come to you on the same day. Rely on us and we will prove that we are real professionals!