Air Conditioning Repair Service
Talking about a comfortable atmosphere, you have in mind a certain temperature, depending on the weather and your mood. Fortunately, you can easily change the climate in your house with the help of your AC controller! But what to do if nothing happens after the button is pushed? If it seems like something is wrong, you need to solve it the soonest time. Home Appliances Service Center is always ready to help at the highest quality level, and at a fair price. Just apply for Air Conditioning Repair in San Diego County at any moment. Our specialists will rapidly rush to your address from the closest local office to save your appliance and well-being!
Firstly, we should find out what went wrong with your appliance. The list of issues that may happen with AC is pretty long. Do not hesitate to apply for Air Conditioning Repair if you notice any malfunctioning:
It does not turn on or off, shuts off itself, comes on and off, or works non-stop.

It turns on but does not cool or heat the air.

You cannot set a wanted temperature, the control module malfunctions, or the appliance is not reacting to the remote-control signals.

It vibrates, buzzes, squeals, grinds, pops, pings, rattles, or hoots strangely.

It has water or refrigerating coolant dripping.

The conditioner cools or heats the room unevenly.

It has an indicator blinking red.

The indicators are not working at all or go on and off.

There is no airflow from the conditioner, or it is too weak.

The air, which goes out of the appliance, has a filthy or electrical odor.

Power switches, start capacitors, controllers, thermometers, blown fuse, fans, motors, condensate pumps, condensers, control boards, thermostats, outdoor units, relay switches, or compressors failed.

Faulty electricity supply.

Wires, plugs, isolation, belts, thermostat batteries, safety switches, contactors, bearings, or duct systems are defective.

Incorrect installation.

The condenser, evaporator, coils, condensate pump reservoir, filters, drainpipe, or filters are dirty.
Some of those issues may be actually solved or prevented by proper maintenance. To get to know exactly what happened, and what to do, just call us anytime! Our qualified team will gladly consult you on any questions and conduct remote diagnostics. It helps to indicate the reason for the trouble and the approximate cost of such Air Conditioning Repair and Services.
Usually, we cover all orders on the same day, but you can pick any time, suitable for you. We are also available for urgent cases during non-working periods like days off or after hours. It ensures instant reaction for a small extra payment. Even with additional services, our prices for any Air Conditioning Repair tend to be the fairest and the most affordable. We care about saving not only your time but also money. Thus, we are not hiding any fees or information about the condition of your item. If we indicate that your appliance is beyond repair, we will honestly inform you.
Due to extended experience, our specialists can easily find the reason for breakage in any situation. They easily deal with air conditioners of any model of all brands, plus have regular training and licensing. They skill up and raise their qualification for any type of Air Conditioning Repair and Service all the time. Thus, even the latest, the oldest, or the most expensive luxury appliances are not going to become trouble. 
We conduct each Air Conditioning Repair and Service flawlessly, leave no dirt in your room, and make you happy about the result. The same glad are tons of other satisfied clients we have got in over 20 years of working. They recommend us to friends too, as they always get brilliant results with us.
Add a long-time warranty and numerous positive comments from our customers, and you get a reliable Air Conditioning Repair provider. That proves that our company is worth applying to for those who need a reliable and responsible service center. We perform all work at the perfect quality level with the best equipment, materials, tools, and original spare details.
We always proceed with any Air Conditioning Repair and Service with all the responsibility. Our team cares for your comfort and cannot let you have your appliances standing aimlessly. To get your AC to perform properly again, just call Home Appliances Service Center or place an online order. Our friendly and proficient specialists will do all the rest at the soonest time and in the most comfortable conditions!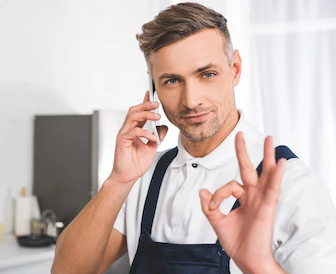 Main Reason to Choose Us
We've been repairing household appliances since 2001. Our experience is your guarantee of quality. We are ready to come to you on the same day and inexpensively carry out high-quality repairs. We use only original spare parts!

Labor Guaranteed
We provide a 90-day warranty on every repair for every client.

Same Day Service
We carry out repairs on the same day you call us in 95% of cases.

Licence & Insured
Each repairman who works for us has a license and insurance.
Choose the brand of your Air Conditioner
We repair all popular models of residential appliances from major brands. Find your Air Conditioner brand in the list below and click on it for helpful information. Call us or fill out the feedback form, and our repairman will come to you on the same day. Rely on us and we will prove that we are real professionals!