Commercial Appliance Repair Service
Electronic appliances have become an integral part of our life, work, and all spheres of activity. Companies and businesses usually have a bigger number of items and more frequent usage, which require close attention. The owner or manager should always be ready to find the quickest and most effective solution for any breakage. The best idea in such situations is to apply to Home Appliances Service Center. It is the most reliable provider of Commercial Appliances Repair in San Diego County. We are always ready to help with any electronics at the fairest price and at the top-quality level.
Shops, cafés, malls, hospitals, schools, theaters, and any other entertainment, recreation, and development facilities are stuffed with electronics. It is a huge responsibility to keep them all in order. But the tasks get easier when you let professionals deal with them. Our company works in the field of Commercial Appliances Repair and Service for over 20 years so far. It makes us proficient in installing, fixing, and providing regular check-ups and cleaning of any models of all brands of:

Refrigerators.

Freezers.

Stoves.

Ovens.

Cooktops.

Ranges.

Dishwashers.

Washing machines.

Dryers.

Microwaves.

Heaters.

Air conditioners and climate control systems.

Humidifiers.

Thermometers.

Scales.

Vacuum cleaners.

Office equipment.

Wine coolers.

Ice makers.

Hoods, etc.
All our technicians are insured, and they regularly pass the licensing for the newest and luxury appliances. They constantly develop their knowledge and proficiency and stay up to date with the latest technologies. Thus, you can confidently apply to us for any Commercial Appliances Repair. Regardless of the oldness, the manufacturer, or the rareness of your electronics, it is in reliable hands with us.  If it is required, we gladly sign the contract for a one-timer repair or for durable maintenance services. Plus, all our work is always backed up with a long-term warranty.
We are happy to have tons of satisfied clients, including commercial ones. They are now always applying only to us for any Commercial Appliances Repair and Service! They also recommend it to others and leave tons of appraising comments on the net. We gladly offer our time-checked services to anyone who appreciates the quality and wants to apply to real professionals. 
With our extended experience, friendly personal attitude, responsibility, and refined skills, we offer the best conditions and flawless results. Plus, our technicians use top-notch equipment, tools, materials, and original spare details for all Commercial Appliances Repair. We make any breakage vanish in no time, so your items will serve your needs properly for a long time.
We understand that it is especially important to get all the Commercial Appliances Repair and Services in the quickest terms. It is essential for your work process, the comfort of customers and employees, and the quality of commodities. It is usual for us to complete all orders on the same day when the clients apply for them. 
For cases that are especially urgent, our technicians can be dispatched to your place within 15 minutes after your call. It is available even during non-working hours or days off, at a slightly higher rate.
When you have any troubles with electronics, it makes sense to get a free consultation from our specialists first. They will gladly provide you with all the needed information or conduct remote diagnostics. It helps to clarify the situation and to plan the most effective Commercial Appliances Repair. We will always be able to calculate the approximate cost of such work beforehand.
Being in charge of any business, office, or public place, you have many obligations and things to do. Not be distracted from other important things, delegate arranging any Commercial Appliances Repair and Service to specialists! Just apply to the Home Appliances Service Center anytime. We will do all the rest in the shortest terms, at the most favorable price, and at the highest quality.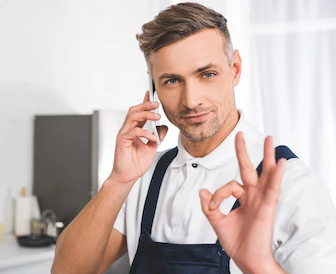 Main Reason to Choose Us
We've been repairing household appliances since 2001. Our experience is your guarantee of quality. We are ready to come to you on the same day and inexpensively carry out high-quality repairs. We use only original spare parts!

Labor Guaranteed
We provide a 90-day warranty on every repair for every client.

Same Day Service
We carry out repairs on the same day you call us in 95% of cases.

Licence & Insured
Each repairman who works for us has a license and insurance.
Choose the brand of your Freezer
We repair all popular models of residential appliances from major brands. Find your Commercial Appliance brand in the list below and click on it for helpful information. Call us or fill out the feedback form, and our repairman will come to you on the same day. Rely on us and we will prove that we are real professionals!