Range Repair Service
Ranges combine the best features of other kitchen appliances like cooktops and ovens. But they also get a bigger number of possible troubles because of this. Only a qualified person should deal with this item in case of any failure. Ranges, especially gas ones, may become a real danger. Talented and experienced specialists from Home Appliances Service Center are ready anytime to accept your order. We provide the quickest and most professional Range Repair in San Diego County at an affordable price and flawless quality.
Our company has over 20 years of experience in Range Repair. It made every member of our team a proficient, highly skilled, and precise worker. We are able to find and solve a problem quickly and tidily for various types of ranges. Our technicians find the most effective solutions for items of all brands and models, the newest and latest, commercial and private ones. 
We regularly raise the qualification levels of our technicians, broaden their knowledge, and refine their skills. They regularly get licenses for dealing with any Range Repair and Services, even for brand-new luxury units. To reach perfect results, we use only professional tools and equipment, together with best-fitting details and original spare parts.
You do not have to worry about pricing, as we have the most affordable cost of Range Repair and Service. It is just a little higher for the urgent arrival of the technician during non-working hours or on days off. This option ensures that the repairman sets off to you immediately. Normal issues do not take more than a day to resolve in 90 percent of cases.
We back up each Range Repair with a long-term guarantee, which makes you feel secure, and shows our reliability. Another reason to trust your appliances to our company is a vast number of glad clients. They leave positive reviews and tell others about us. Our customers are fully satisfied with the highest quality of our work and our friendly and responsible attitude.
So how to understand that you need to call a technician to proceed with Range Repair for you? There is a vast number of troubles, which may happen to this appliance, and the most common are:
You cannot turn your range on or off.

It produces no heat or flame at all.

Heaters, burners, induction elements, coils, or tans do not work properly (heat unevenly, too little/too much, shut off themselves).

The flame goes out itself, flickers, sparkles, or has an unusual color, like yellow, red, or orange. 

Electricity or gas supply is disturbed due to spoiled wires, plugs, safety valves, or ignition.

You smell gas or burning.

Burners are clicking or hissing while you are turning them on.

Bulbs or light indicators are not shining or are going on and off.

You notice strange sounds, buzzing, or vibrations while the range is on.

The surface elements, door glass, handle, drawer mechanism, knobs, or buttons require replacement.

Controllers, broilers, heaters, thermostats, or convection fans are not working properly.

The control board fails, so you cannot adjust any settings.

Gas lines, convention fans, or vent tubes need cleaning.

The door is not closing or opening normally, due to defective gasket, hinges, springs, or joints.

The information screen is blank or showing an error.

The need to replace sensors, heating elements, grates, or burner caps.
No delay is recommended when electronics, which work with gas, are malfunctioning, as it may lead to danger. It is better to call specialists for minor trouble than try dealing with it yourself and make things even worse. Moreover, getting assistance from a specialist is quite easy and free! Just call us to get a consultation or advice or conduct remote diagnostics. It will help to clarify the situation and get an understanding of the plan and approximate cost of Range Repair and Service.  After, you will only need to set the time when you want the master to arrive at your address. 
Home Appliances Service Center is 24/7 available to care for your safety and make your appliances function properly again. Just call us or place an online application on our website! We conduct any kind of Range Repair and Service at a favorable price, the highest quality, and at any time!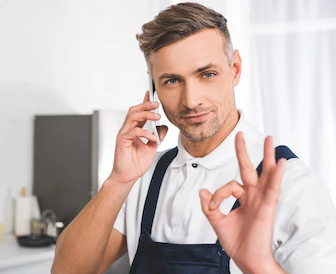 Main Reason to Choose Us
We've been repairing household appliances since 2001. Our experience is your guarantee of quality. We are ready to come to you on the same day and inexpensively carry out high-quality repairs. We use only original spare parts!

Labor Guaranteed
We provide a 90-day warranty on every repair for every client.

Same Day Service
We carry out repairs on the same day you call us in 95% of cases.

Licence & Insured
Each repairman who works for us has a license and insurance.
Choose the brand of your Range
We repair all popular models of residential appliances from major brands. Find your Range brand in the list below and click on it for helpful information. Call us or fill out the feedback form, and our repairman will come to you on the same day. Rely on us and we will prove that we are real professionals!