Freezer Repair Service
Have you got your freezer failed and now are looking for a specialist? Home Appliances Service Center is here to solve all troubles with household electronics. If you want to get it fixed quickly, at an affordable price, and with flawless quality - we have a solution! Just contact us to get the best Freezer Repair in San Diego County at any moment. Our local office is available for you round-the-clock. Working with us is easy and stressless, and the result is always brilliant! 
So, above all, what happened?
The first thing to do, if you notice something wrong with your freezer, is to call our specialists. They are always ready to provide you with a free consultation or remote diagnostics. It helps to understand what makes your appliance malfunction and find out the way to eliminate the issue. We will also be able to announce an approximate cost of the repair. You will only need to make an appointment at the most suitable time for you. 
Usually, we complete any Freezer Repair and Services on the same day only several hours after you apply to us. You may also want to appoint another date or pick the option of urgent arrival of the technician. For a slightly higher price, the repairman will rush to you 15 minutes after you inform us about your emergency. For that, we are available even on days off or non-working hours like late at night.
There are many possible unpleasant situations, which make you apply for Freezer Repair. Dealing with freezers, the most frequent troubles, which our technicians successfully resolve, are:

The appliance does not turn on or off.

It is not freezing enough or freezes too much.

Has pieces of ice, snow-like accumulation, or snow mold covering the products or walls inside.

An unpleasant odor in the freezer.

The unit produces unusual loud sounds, buzzing, and vibrations.

Liquids (water or refrigerating coolant) leak out.

The self-defrost function fails.

Bulbs or indicators are faulty or go on and off.

You cannot close the door tightly.

Ice or dirt is blocking the condenser coils, drain pans/tubes, evaporative coils, or defrost drain.

Seals, hinges, springs, joints, latches, door switches, shelves, wires, plugs, belts, knobs, buttons, handles, bearings, leveling feet, compressor mounts, hoses, water inlet valves, or other details require replacement.

The control board failed, so buttons or touchpads are not responding, or the screen is blank/shows an error.

Hardware parts need a repair or replacement, like the compressor motor, thermostat, defrost heater or timer, condenser coils, evaporator fan, condenser fan, relay switch, compressor relay, vents, evaporator, ice maker, or overload protector.

Spoiled electricity supply or isolation of wiring.
It may happen that you faced an issue, which you cannot find in the list above. But it does not mean that our specialists cannot deal with it! We have over 20 years of experience in all types of Freezer Repair. All this term, we care about making technicians always up-to-date and the most effective for any task. 
They have regular training, raising their level of qualification, and getting licenses for new and luxury items. It lets them work with the latest, most unusual, and most expensive appliances of any model of any brand. We can cope with Freezer Repair and Service even for the rarest, oldest, latest, budget, and premium class freezers. 
Each of our specialists is able to find and indicate the reason for breakage fluently. And, what goes without saying, they always eliminate it accurately, swiftly, and dustless! The best professional tools, equipment, materials, and original spare details help make your item run like a clock. We conduct all Freezer Repair on the highest quality level. And we are responsible for it, so back up each completed order with a long-term warranty. 
Another indicator of our reliability is the opinion of our customers, who keep applying to us. They recommend our Freezer Repair and Service to friends and relatives and leave tons of positive comments on the net. Besides a brilliant result of work, they often note our friendly attitude and favorable prices. We appreciate the trust of our clients and are always fair and honest. We do not have hidden fees and do not proceed with the repair which is not cost-effective.
Do not delay applying for Freezer Repair and Service if you notice your appliance running not the way it should. Even the smallest malfunction can lead to total failure or danger. Just call Home Appliances Service Center or place your order online at any moment. Our managers will shortly get in touch with you and resolve any issue professionally, quickly, and at an affordable price!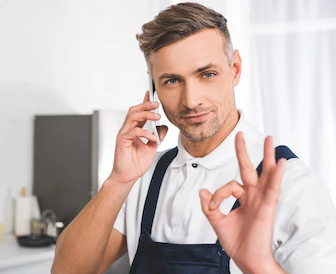 Main Reason to Choose Us
We've been repairing household appliances since 2001. Our experience is your guarantee of quality. We are ready to come to you on the same day and inexpensively carry out high-quality repairs. We use only original spare parts!

Labor Guaranteed
We provide a 90-day warranty on every repair for every client.

Same Day Service
We carry out repairs on the same day you call us in 95% of cases.

Licence & Insured
Each repairman who works for us has a license and insurance.
Choose the brand of your Freezer
We repair all popular models of residential appliances from major brands. Find your Freezer brand in the list below and click on it for helpful information. Call us or fill out the feedback form, and our repairman will come to you on the same day. Rely on us and we will prove that we are real professionals!