Ice Maker Repair Service
For all lovers of cool drinks, it is essential to have an ice maker always available, for using cubes in any cocktails, juice, alcohol, or even just water. A smart owner of electronics is always ready for such a situation when it fails. Every problem may be quickly and easily resolved by just calling to Home Appliances Service Center. Our team is real professionals, providing the best in Ice Maker Repair in San Diego County. Applying to us, you always get brilliant results in the most comfortable conditions!
Our company has been tirelessly developing the skills, proficiency, and fluency of our specialists for over 20 years. And we never stop refining our qualifications even more! Thus, we can surely claim that every technician in our team is able to quickly detect any trouble. And, surely, it means that each Ice Maker Repair they conduct is flawless and durable.
We deal with all models of all brands of ice makers, providing any type of Ice Maker Repair and Services. No matter how difficult the trouble is, and what is the model of your unit. We cope with all, even oldest, latest, rarest, budget, luxury, commercial and private, appliances.
You never know beforehand how long this nice appliance will work properly. It may fail sooner or later because of external impacts, time, or lack of proper maintenance.  Thus, we recommend you pay attention even to the smallest malfunctions and call us if anything goes wrong.
Working with this appliance, the most common breakages we face are: 
It is not turning on or off.

It is not producing ice cubes or making them deformed/smaller/bigger/less solid than it should.

The cubes are covered with ice mold and cannot be ejected easily.

The ice has an unpleasant smell or taste.

Ice does not fall into the ice basket or keeps falling when it is already full.

The fan, control panel, control arm, compressor, ice-cutting mechanism, gearbox, power switch, or motor are not functioning well.

The thermostat does not set the proper temperature.

Control pad, controllers, touchpad, or information screen fail.

Faulty wires and electricity supply.

The water line is leaking or clogged.

Water drops are condensing underneath the unit.

The refrigerant is dripping or leaking.

The appliance produces unusual sounds or vibrations.

The water reservoir, pipe, or pump is blocked or frozen.

Worn-off seals, belts, baffles, flaps, bearings, pipes, buttons, knobs, switches, handles, doors, springs, hinges, locks, latches, joints, or any other details require replacement.

The water filter or supply valve needs are dirty or defective.
Any issues with the ice maker will cause no difficulties for our technicians to solve them quickly and easily. We reach it due to perfect skills and a professional set of tools, materials, equipment, and original spare details. That all together provides neat, precise, and dustless conducting of any Ice Maker Repair. Our team is always giving you brilliant results at the best and fairest price. To show our responsibility, we give a long-term warranty for everything we do and say.
Our customers, after working with us for the first time, have no doubts about choosing a service provider. They recommend our Ice Maker Repair and Service to other people and leave tons of positive reviews! It proves our quality and explains why we withstand competition successfully for years.
Having any hesitations about the condition of your ice maker, call us and get a free consultation or remote diagnostic. It helps to figure out what happens and how to make your appliance work properly again. When our specialist indicates the needed procedures, he tells you the approximate price of Ice Maker Repair and Service. After that, you will just need to pick the most suitable time for our repairman to come to your address. 
In over 90 percent of cases, your appliance gets back to life the same day you applied. We are always close and available 24/7, plus have perfect management and logistics. Even if you need Ice Maker Repair late at night or on a day off, we are still available. Urgent arrival during non-working periods costs slightly more but gives you an assistant as quickly as possible. And even a bit quicker!
For receiving top-quality Ice Maker Repair and Service from the most qualified, reliable, and responsible specialists, just contact us! Home Appliances Service Center offers the best prices, quickest results, and outstanding quality. We are always there for you and ready to make your item serve your needs properly again!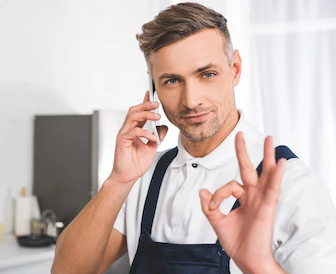 Main Reason to Choose Us
We've been repairing household appliances since 2001. Our experience is your guarantee of quality. We are ready to come to you on the same day and inexpensively carry out high-quality repairs. We use only original spare parts!

Labor Guaranteed
We provide a 90-day warranty on every repair for every client.

Same Day Service
We carry out repairs on the same day you call us in 95% of cases.

Licence & Insured
Each repairman who works for us has a license and insurance.
Choose the brand of your Ice Maker
We repair all popular models of residential appliances from major brands. Find your Ice Maker brand in the list below and click on it for helpful information. Call us or fill out the feedback form, and our repairman will come to you on the same day. Rely on us and we will prove that we are real professionals!