Refrigerator Repair Service
Mostly, appliances provide us with comfort and help us to save time. But such items like the refrigerator are even more practical as they care for saving our food fresh. It decreases the chance of eating spoiled products and getting health troubles. Among all repair works, this beneficial device is one of the most popular items to be fixed. And Home Appliances Service Center perfectly copes with reanimating it! If it happens that your fridge works wrong or does not work, just apply to us! We will gladly provide you with the most reliable Refrigerator Repair in San Diego County as soon as possible.
Small issues require Refrigerator Repair too, not to lead to a total failure. Even if the item is still working, there is a whole list of disturbing troubles, for example:
The doors do not close tight enough or are too tight, as have damaged gaskets, hinges, springs, joints, or switches.

It freezes too much or not enough.

The control panel, buttons, controls, or information screen is not working or is working wrong. It does not respond, shows an error, and you cannot adjust the needed settings.

Worn-out wires, isolation, or plug cause unstable or disrupted electricity supply.

The inner bulb or outer indicator is not working or going on and off.

Additional parts malfunction, like the freezer, ice maker, or water dispenser.

The compressor, evaporator or condenser coils, condenser fan, evaporator tan, control relay, defrost heater or timer, or thermostat are out of order.

Weird noises or vibrations while the fridge is on.

Water or refrigerating coolant is dripping inside or outside.

Buttons, handles, shelves, or surfaces are deformed or broken.

Pieces of ice or ice mold appear on the inner walls.
Each item within this enumeration may initially appear inconsequential for routine usage. However, postponing maintenance or Repair carries the peril of exacerbating these issues into more severe complications. Prudent practice dictates that Refrigerator Repair and Services should be promptly undertaken while the problem remains in its incipient stages. This approach is not only cost-effective but also significantly lessens the likelihood of addressing a substantial breakdown or necessitating the complete replacement of the appliance. Furthermore, our equitable and budget-friendly pricing structure renders this an even more efficacious solution for your consideration.
Our company offers you a quick, cost-effective, and high-quality solution for any Refrigerator Repair and Service. Home Appliance Repair Center has over 20 years of dealing with household and commercial electronics. Thus, we definitely know what to do when anything is wrong with your refrigerator. Our skilled, friendly, and accurate technicians work with the best professional tools to make your appliance back to normal shortly. 
Numerous happy clients recommend us to other people, post numerous positive reviews, and come back to us for other needs. After their first order, which we perfectly completed, they are confident in our reliability, responsibility, and competence. We cope with any Refrigerator Repair for all brands and models, regardless of their lifetime, year of issue, cost, and rareness.
It is never an inappropriate time for us to come to your place and fix your appliance. We are always around, and our technicians cover almost all work the same day when you apply. We also offer an urgent arrival from our local department on non-working periods for additional payment. With brilliant skills, outstanding knowledge, and responsibility for this work, our specialists will deal with any breakage easily and quickly. 
They always use the best professional tools, equipment, materials, and original spare details for Refrigerator Repair. It also helps much in reaching the best result, so your fridge will perform flawlessly when our work is done. 
It is normal to hesitate if you need to apply for a repairman to come, or not. You lose nothing by calling us to get a piece of advice. We will gladly provide you with a free consultation and remote diagnostics to indicate the condition of your item. It helps to detect the issue and announce the plan of work and the approximate cost of Refrigerator Repair and Service. 
For any type of Refrigerator Repair and Service, we have the most affordable and fair prices. Plus, we back up all work with a long-term warranty. We restlessly press for flawless quality and are in charge of what we do and promise. Home Appliances Service Center is always there for you, just call or place an online application anytime!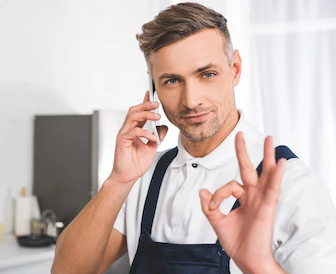 Main Reason to Choose Us
We've been repairing household appliances since 2001. Our experience is your guarantee of quality. We are ready to come to you on the same day and inexpensively carry out high-quality repairs. We use only original spare parts!

Labor Guaranteed
We provide a 90-day warranty on every repair for every client.

Same Day Service
We carry out repairs on the same day you call us in 95% of cases.

Licence & Insured
Each repairman who works for us has a license and insurance.
Choose the brand of your Refrigerator
We repair all popular models of residential appliances from major brands. Find your Refrigerator brand in the list below and click on it for helpful information. Call us or fill out the feedback form, and our repairman will come to you on the same day. Rely on us and we will prove that we are real professionals!