Heating Repair Service
"While it is fine weather, mend your sails" - easy to say but not to follow. Many of us, surely, have regretted not thinking beforehand about the future. Home Appliances Service Center in over 20 years of working has noticed such a trend. When the cold begins, people turn on their heaters and find out that they work wrong or do not work. We recommend you care for your climate control devices all the time. If you need help with this task or if it has already failed, you can rely on us anytime. We provide the quickest high-quality Heating Repair in San Diego County at an affordable price.
It is pretty clear that if you want to use your heater, you need it to be workable right now. Therefore, when it fails, the solution should also come in the quickest time. Our company is always ready to arrange any Heating Repair and Services on the same day when you apply. 
Even in case of urgency, late at night, or on a day off, our team is ready to help! We offer the quickest departure of the technician from the closest local department. It will fairly cost a little more but ensures the minimum possible expectancy term.
Our specialists know the construction and functioning of all types of heaters perfectly. So, it does not matter how complex the problem is, we will find and eliminate it precisely and quickly. We provide the best Heating Repair for all models of any brand of these units. Even if your item is a luxury one, or the latest model, we will easily deal with it. Our technicians have regular training, so their skills, knowledge, and qualification are always developing. We have licenses for working with any possible household and commercial appliances and always stay up to date with the newest.
Our repairmen use only the best professional tools, equipment, high-quality materials, and perfectly suitable spare details. We conduct all Heating Repair neat, tidy, and fast, and always back them up with a long-term guarantee.
The most common issue about the heater is not warming up the room or doing it unevenly or not enough. It may have different reasons, like disturbed electricity supply or pilot light/ignition control, or broken thermostat or controller. When you feel no airflow, or it is too weak, you may also face a faulty or dirty fan. If you cannot adjust any settings or buttons do not respond, then the controlling module is out of order. Not reacting to the remote control and blank information screen are other signs of that problem too.
Do not delay applying for Heating Repair and Service also if you hear strange noises or vibrations. Another alarm call is if the item produces filthy, gas, electrical, or burning smells.
 It often happens that the appliance works worse if it has obstructed, dirty or defective parts. In such cases, we will need to check, clean, or replace such details like flue pipes, burners, vents, ignitions, flame sensors, condensate drains, HVAC filters, dampers, air handlers, outdoor units, ducting systems, evaporators or condenser coils, sensors, wires, belts, bearings, reversing or gas valves. 
And there is no doubt that your heater failed if you cannot turn it on, or it shuts off abruptly. The best idea is to get Heating Repair and Service from professionals. It may appear that you can follow the instructions of our technician and resolve an issue in a few minutes. Mostly, your explanation will reveal a real reason for malfunction, as often it is hidden deep inside failed hardware. Then, we will need to replace or fix the fan, heat pump, limit switch, compressor, contactor, heater, or other parts.
Being not sure about the condition of your appliance, just call us to get a free consultation and remote diagnostics. It will help you not to miss the moment when your heater breaks even more. Our qualified workers can estimate the situation and the approximate cost of the needed Heating Repair in no time. So, you will know what the situation is and how to plan the time for the visit of the technician. 
It may appear that the repair is not cost-effective or advisable. In that case, we will inform you as soon as find it out and help with picking a replacement. We never want to waste your time and money.
The best indicator of a reliable and trustworthy provider of Heating Repair and Service is the number of satisfied clients. Our customers are glad about our job and leave numerous 5-star reviews about our company. We are happy to have hundreds of them, and this amount is only getting bigger daily. It means that Home Appliances Service Center is a brilliant option for your household or commercial electronics. To get things done soon at the most comfortable conditions, the most favorable price, and flawless quality, just contact us!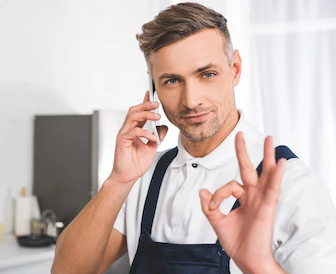 Main Reason to Choose Us
We've been repairing household appliances since 2001. Our experience is your guarantee of quality. We are ready to come to you on the same day and inexpensively carry out high-quality repairs. We use only original spare parts!

Labor Guaranteed
We provide a 90-day warranty on every repair for every client.

Same Day Service
We carry out repairs on the same day you call us in 95% of cases.

Licence & Insured
Each repairman who works for us has a license and insurance.
Choose the brand of your Heater
We repair all popular models of residential appliances from major brands. Find your Heater brand in the list below and click on it for helpful information. Call us or fill out the feedback form, and our repairman will come to you on the same day. Rely on us and we will prove that we are real professionals!