Chula Vista Appliance Repair
People's comfort, work, nerves, and pastimes may be spoiled when something goes wrong with things we are used to. Especially when the talk is about our household or commercial electronics. So, when those items get broken, the best specialists from Home Appliances Service Center rush to you at any moment. Our goal is to make sure that the dark times of faulty appliances vanish soon. 24 hours a day, 7 days a week, our most reliable technicians are available for you. The provider of the quickest, top-quality, and cost-effective Appliance Repair in Chula Vista, CA, is ready to come anytime.
What stresses you the most about the situation when you need to get anything repaired?
A high price of repair works
No worries, at Home Appliance Service Center we do not aim to take all your money. We provide you with worthy Chula Vista Appliance Repair for a reasonable price, adjusting to any budget. Having loyal prices, a friendly attitude, and being always honest are our rules for working with clients. And it has its fruits! Customers get back to us after facing such an approach for the first time. They always know that we are responsible for our words and actions.
Afraid that it breaks again soon
We back up each Appliance Repair in Chula Vista, CA with a long-term warranty to show our confidence. We do not doubt the highest quality of completed works and want to make you calmer about the future performance of your item. And if our technician understands that your device is not going to last for long, you will be informed. Some breakages can be too expensive to eliminate. And in such cases, we recommend you replace the appliance with a new one.
Do you not want to wait a long time
And you do not have to! More than 90% of all applications for Chula Vista Appliance Repair are fulfilled on the same day. We always try to arrange the arrival of our specialist at your place as soon as possible. Do not worry if the trouble happens on a day off or during non-working hours, and you cannot wait! For a bit of extra payment, the helper sets off to you 15 minutes after you apply anytime 24/7.
Think that your appliance is too rare, too expensive, or too old to be easily fixed
Since 2001, our company has worked with all types, all brands, and models of household and commercial appliances. Thus, there is no such item that will puzzle our specialists. Our repairmen are regularly training and getting licenses for the latest and luxury units. It lets them always stay up-to-date and conduct the most precise Appliance Repair in Chula Vista, CA. They can pick the best suitable materials and spare details, working with only professional tools and equipment. It ensures that we can assist our customers in any situation in the best way.
Doubt if the case is serious enough to call a technician
Apply to us when you notice even the smallest malfunction to get the most effective Chula Vista Appliance Repair! If you ignore anything going wrong, the situation may get only worse, more complicated, and more expensive to resolve. Our team is available for a free consultation and remote diagnostics anytime. 
When you explain what issues you face, we will quickly understand the reason for the breakage. It will also help to announce the way to resolve it and the approximate cost of such work. It may indeed happen that the trouble is minor, and we can resolve it remotely in a few minutes. But mostly, you will find out why the item failed and pick the most suitable time for our arrival.
Cannot decide which company to choose
In this question, there are several exact indicators. The first is the opinion of people who already faced the same things. We are proud to have a huge amount of happy clients, who share positive reviews about our company. They are fully satisfied with the best Appliance Repair in Chula Vista, CA we conduct. Thus, they confidently recommend us to friends and other people on the net. Another sign of reliability is the time, in which the company withstands competition. In our case, it is over 20 years! 
Your appliance has many rivals (like time, voltage surges, lack of maintenance, or accidents), which may make it work worse. But Home Appliances Service Center is a real friend, who makes things back to normal quickly and is always available! Any moment you need a consultation or apply for Chula Vista Appliance Repair and Service, just call us! Our caring specialists will do their best in the quickest way, at a favorable price, and at the flawless quality!
Main Reason to Choose Us
We've been repairing household appliances since 2001. Our experience is your guarantee of quality. We are ready to come to you on the same day and inexpensively carry out high-quality repairs. We use only original spare parts!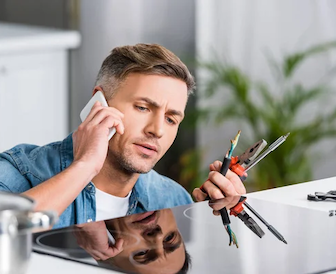 Labor Guaranteed
We provide a 90-day warranty on every repair for every client.

Same Day Service
We carry out repairs on the same day you call us in 95% of cases.

Licence & Insured
Each repairman who works for us has a license and insurance.
Appliances Repair services in Chula Vista
Here are the appliances we repair. Did you find what you need on the list? Contact us, order a repair, get a high-level service and a quality guarantee. A company with over 20 years of experience at your service!
Get in Touch
If you need appliance repair services in San Diego County, simply fill out the online form, and one of our representatives will be in touch right away.