LG Refrigerator Repair
You can rely on services offered by the very producer, but when their warranty expires or a non-warranty case happens, applying to their official service center may be not the most cost-effective and time-saving option. So, what to do when you need to get a reliable and efficient LG Refrigerator Repair in San Diego County? The local department of Home Appliance Service Center is always ready to assist you really soon!
When in need of LG refrigerator service repair, trust our experienced technicians. We specialize in providing comprehensive Repair for LG refrigerators, addressing any issues with precision. Count on our skilled professionals to deliver top-notch service, utilizing genuine LG parts for reliable Repair. Contact us for efficient and dependable LG refrigerator service repair you can trust.
For LG Refrigerator Repair Near You, rely on our skilled technicians. We specialize in servicing LG refrigerators with precision and expertise. Trust us to diagnose and fix any issues efficiently, ensuring your refrigerator functions flawlessly. Contact us today for reliable LG refrigerator repair services near you.
We have completed many applications for LG Refrigerator Repair and Service of all possible models and have faced and successfully solved multiple unpleasant situations, such as:
Spoiled electricity supply, so it doesn't work (worn/torn wiring or voltage issues).

Leakage of water or freon inside or outside the appliance. Only an experienced LG Refrigerator Repair technician can locate the leak and fix it.

Software errors, so the control panel and information screen fail.

The bulb inside or any indicators are blinking or burned out.

Inner doors or shelves spoiled.

Surface elements (door, body) have dents or cracking.

Spoiled system of opening/closing the door, worn gasket or door switch.

Defective or lost buttons, handles, or switchers

Malfunctioning freezer, ice maker, or water dispenser.

Control relay, condenser coils or tan, evaporator coils or tan, defrost heater or timer, temperature controls or compressor are out of order.

Too low or too high temperature, which can't be set to a needed level.

Inner walls covered with ice or ice mold.
A LG Refrigerator Repair and Service technician will have no trouble pinpointing the exact cause of the breakdown and the steps to fix it.
When it comes to refrigerator repair LG in San Diego, trust our skilled technicians for expert service. We specialize in repairing LG refrigerators, ensuring optimal performance and functionality. From diagnosing issues to replacing parts, we provide reliable and efficient Repair. Contact us today for professional LG refrigerator repair services.
With over 20 years of experience, our company gained precious knowledge, skills, and a total understanding of how to provide every single customer with the best services and brilliant results.
As we have tons of customers, who now apply only to us, because they are satisfied with our work, we may surely claim responsibility and reliability. And not just claim but also prove it with warranty for all works done by our technicians LG Refrigerator Repair!
The expertise of our LG Refrigerator Repair and Services technicians is backed by top-notch professional tools and equipment, materials, and genuine replacement parts.
LG Refrigerator Repair is done on the same day when the application was left in the absolute majority of cases. We know that you may need such help also on non-working days or hours, and we are working round the clock with a slightly higher rate for such emergencies.
If you require LG refrigerator warranty repair, our experienced technicians are here to assist you. We specialize in honoring LG warranties and providing reliable repair services. Rest assured that your refrigerator will be serviced by knowledgeable professionals using genuine LG parts. Contact us for hassle-free LG refrigerator warranty Repair.
Home Appliance Service Center is a professional service center with 20 years of successful experience. Always remember, you lose nothing when you ask for a free consultation, but you may lose your time, money, and the very appliance if you do nothing when it works wrong. Do not hesitate to call us anytime, and our friendly team of professionals will provide you with any information, consultation, or even conduct remote diagnostics. When we certainly know what the situation is, all needed LG Refrigerator Repair and Service will be arranged for you in the quickest and the most stress less way.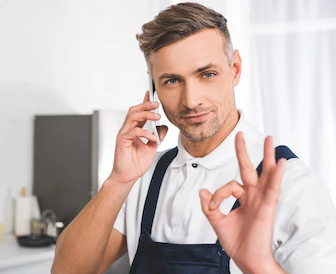 Main Reason to Choose Us
We've been repairing household appliances since 2001. Our experience is your guarantee of quality. We are ready to come to you on the same day and inexpensively carry out high-quality repairs. We use only original spare parts!

Labor Guaranteed
We provide a 90-day warranty on every repair for every client.

Same Day Service
We carry out repairs on the same day you call us in 95% of cases.

Licence & Insured
Each repairman who works for us has a license and insurance.
Choose the brand of your Refrigerator
We repair all popular models of residential appliances from major brands. Find your Refrigerator brand in the list below and click on it for helpful information. Call us or fill out the feedback form, and our repairman will come to you on the same day. Rely on us and we will prove that we are real professionals!