Commercial Appliances Repairs in Rancho Penasquitos
Home Appliance Service Center has been not only repairing commercial appliances, but also servicing them for over 20 years. The professionals at Commercial Appliances Repair in Rancho Penasquitos, CA are true professionals. It is very important for commercial refrigeration equipment to be serviced regularly, which will greatly extend the life of the equipment.
Everyone knows that the most important thing is to ensure quality troubleshooting in the early stages, then you won't have to deal with later problems. But if your appliances do break down and your business is at risk, our Rancho Penasquitos Commercial Appliances Repair technicians are excellent at handling any problem. 
Refrigeration cabinets repair - begins with a diagnosis of all components including wiring, solder copper pipe locations, measurement of starting and operating currents of the refrigeration compressor. The professionals at Commercial Appliances Repair in Rancho Penasquitos, CA will check the operation of the defrost heating elements.
The setting of the electronic controller, and the operation of the refrigeration condenser blower fans. This procedure can take up to an hour, after which the technician will issue an opinion and recommendations for correcting the identified problems in the operation of commercial refrigeration equipment.
In 95% of cases, Rancho Penasquitos Commercial Appliances Repairs specialists perform refrigeration repair within one business day. After all, all the necessary parts for commercial refrigeration repair are at your fingertips. We always have original refrigeration compressors, electronic controllers, filter driers, freon, solder, and other automation components in stock. and available to every service engineer.
The most frequent reasons why the freezer does not "freeze", does not provide the necessary temperature conditions, are:
Contamination of the heat exchange surface of the air-cooled condensers.

Failure of air condenser blower motors.

Refrigerant leakage from the refrigeration circuit.

Electronic controller failure.

Incorrect adjustment of thermostatic expansion valve.

Failure of solenoid valve.

Wear of door seals.

Breakdown of the refrigerating compressor. 
Therefore, the repair of freezer cabinets and other refrigeration equipment begins with a complete diagnosis of the cabinet, slide or chest. Our Commercial Appliances Repair in Rancho Penasquitos, CA engineers fix not only the breakdown but also the cause that caused the equipment to fail. After a quality repair, proper tune-up of the refrigeration cabinet, the equipment starts working like new.
What are the advantages of the service center Home Appliance Service Center?
Efficiency
Freezer and blast chiller repair has several features that only experienced engineers at Rancho Penasquitos Commercial Appliances Repair can consider. The main advantage of our service center is promptness. This is especially important during the summer, when the load on the refrigeration equipment increases, and the failure of the equipment brings more negative consequences. 
Quality
There are many factors that affect the quality of our work: 
Commercial Appliances Repair in Rancho Penasquitos, CA

engineers have the necessary modern tools.

An in-house inventory of original replacement parts.

Years of experience in servicing refrigerators and freezers.

A full inventory of everything you need to diagnose and repair your commercial refrigeration equipment. 
Three-month warranty on all types of work
There is a warranty on all works, and for customers who have signed a contract for service, there is a system of discounts and special conditions of service.
Our Home Appliance Service Center has been offering industrial refrigerator, refrigeration, and freezer repair services for over 20 years. Refrigerated and freezer cabinets, as well as any industrial and commercial refrigeration equipment needs to be timely and properly serviced. And such a task should only be entrusted to the skilled engineers at Rancho Penasquitos Commercial Appliances Repair and Service. 
Main Reason to Choose Us
We've been repairing household appliances since 2001. Our experience is your guarantee of quality. We are ready to come to you on the same day and inexpensively carry out high-quality repairs. We use only original spare parts!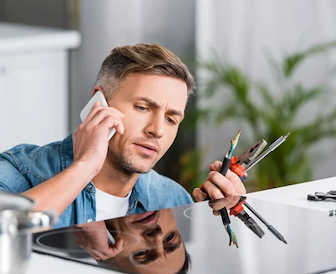 Labor Guaranteed
We provide a 90-day warranty on every repair for every client.

Same Day Service
We carry out repairs on the same day you call us in 95% of cases.

Licence & Insured
Each repairman who works for us has a license and insurance.
Get in Touch
If you need appliance repair services in San Diego County, simply fill out the online form, and one of our representatives will be in touch right away.