Cooktop Repair in Temecula
Many people have begun to abandon gas stoves in favor of electric cooktops. They are more economical, convenient, and more attractive in appearance, especially when it comes to glass ceramic cooktops. But modern electric cooktops do have one small disadvantage - a shorter lifespan due to the relative complexity and fragility of the internal system. Our Home Appliance Repair Center specialists repair cooktops, glass ceramic cooktops, gas cooktops, induction cooktops at home or in our service center shop. We do quality Cooktop Repair in Temecula, CA.
Design features and types of electric cooktops
Electric burner or more.

Pairs of temperature sensors.

Power wiring.

Glass ceramic (if modern electric stoves are involved).

Control panel, by means of which all the processes and programs of the electric cooktops are regulated.

Insulation materials.

Power cable.

Heating element of the oven and fan.
Types of breakdowns and their signs
Here are the most common types of breakdowns with brief descriptions, so that you can independently determine the type of failure.
One or more burners do not heat
If one or more burners are not working, the problem may be the following:
Wiring or contacts.

The control unit (the firmware has malfunctioned or there has been a software failure). Call a technician specializing in

Temecula Cooktop Repair

. 

Burner power regulator.

The problem may also be in the burner itself.
You can check the wiring and contact yourself if you have the proper knowledge and gauges. Problems with the control box, power regulator, or the burner itself can only be fixed by a master Cooktop Repair in Temecula, CA.
Electric cooktop won't turn on
If the cooktop won't turn on at all, it's worth checking:
The socket, plug and power cord. Sometimes the outlet or plug is the problem.

Terminals. Sometimes the terminals can melt due to voltage fluctuations.

Thermal fuse.

Temecula Cooktop Repairs

will get the repair done professionally.

Control unit (software failure, control board failure).

Touch control board does not work (relevant for plates that have this board).
If the cooktops have stopped turning on, the only thing you can do yourself is to check the integrity of the cable, plug and socket. Other breakdowns require the intervention of a qualified Cooktop Repair in Temecula, CA technician.
Touch control does not respond
The cause is either the touch card or the control unit. If the touch card is not working, it most likely needs to be replaced. And the control unit should be checked for software errors, broken tracks, or burned-out radio components. Temecula Cooktop Repair will diagnose and fix the problem at the owner's location.
The burner heats up without stopping
The cause is in the distribution box. Both software failures and physical damage are possible. But often the problem is a sticky burner relay that is in the box. Cooktop Repair in Temecula, CA will perform a replacement control box.
If you notice an abnormality in the operation of the electric cooktop, or the unit has completely stopped turning on, we recommend calling a Home Appliance Repair Center technician immediately or take the cooktop to a service center. Often electric cooktop repair comes down to replacing one part or another, so do-it-yourself repairs are undesirable. Our Temecula Cooktop Repair and Service technicians can determine the source of the problem and how to fix it. 
Main Reason to Choose Us
We've been repairing household appliances since 2001. Our experience is your guarantee of quality. We are ready to come to you on the same day and inexpensively carry out high-quality repairs. We use only original spare parts!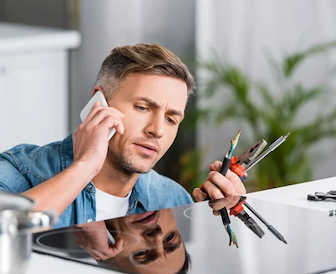 Labor Guaranteed
We provide a 90-day warranty on every repair for every client.

Same Day Service
We carry out repairs on the same day you call us in 95% of cases.

Licence & Insured
Each repairman who works for us has a license and insurance.
Get in Touch
If you need appliance repair services in San Diego County, simply fill out the online form, and one of our representatives will be in touch right away.