Cooktop Repair in Vista
The cooktop has long been firmly embedded in the design and lifestyle of modern kitchens. It is loved by housewives for its compactness and versatility. But what should you do if your cooktop fails? In this case, you need to contact a specialized service center Home Appliance Repair Center. Cooktop is not a cheap and complicated enough household appliance to entrust its repair to dilettantes. The professionals at Cooktop Repair in Vista, CA are proficient in the skills and knowledge of fixing various breakdowns. 
There are several types of cooktops available today: gas and electric. Each has its own features and breakdowns.
Let's look at the most asked questions and breakdowns of cooktops.
How do you know if an induction cooktop is broken?
What you should be alerted to:
Insufficient heating power.

Faulty operation of one burner.

The burners are not heating on the left or right side.

The induction cooktop won't turn on.

The cooktop switches off on its own.

Cooktop gives out an error code.

the device turns on by itself.
IMPORTANT: Don't fix it yourself - call the professionals at Vista Cooktop Repair. 
What to do if the cooktop does not work?
You need to check, plug, socket, power cord, wiring cable and mains voltage. The second cause is a burned burner, or partially burned-out heating element. Burners and heating elements must be replaced. The third reason - the burner switch is defective, so the switch does not turn on. Cooktop Repair in Vista, CA can help you figure out the reason.
Why have the burners on the electric cooktop stopped working?
This could be due to a blown fuse. It is caused by a power surge. A more serious breakdown could be due to a faulty thermostat, broken electronic control board, buttons or rotary switches. Call a Vista Cooktop Repairs technician and he or she will fix everything.
What should I do if my electric cooktop won't turn on?
First, check for a working power outlet and test the power cord to connect the cooktop. If it's okay, look for the problem next. The second step is to disconnect the stove from the socket. Then check with a multimeter each circuit in the circuit. If there is no resistance, eliminate the broken wire. If all of these procedures cause you difficulty, contact the professionals at Cooktop Repair in Vista, CA. This is the key to solving all problems quickly.
Why has the cooktop stopped heating?
Most likely, there's a burned-out coil that needs to be replaced. Another likely reason why an electric cooktop doesn't heat well is a wire that has become disconnected from the burner. Sometimes the cooktop doesn't heat up enough because the power switch is broken. It won't be hard for a Vista Cooktop Repair technician to decide what the cause is.
What to do if the touch cooktop doesn't respond?
In this case, you need to de-energize the device for a while, let the cooktop "rest" for 20-30 minutes, and then just turn on the device. As a result of restarting, the problem can be completely solved, then you can continue cooking.
Why can the burner of the gas cooktop stop working?
There may be several reasons:
Bad contact between the thermocouple and the valve.

Improper operation of the solenoid valve.

Wear of the insulating ceramic on the spark plug.

Insulation of the spark plug is broken.
Why does the gas cooktop go out?
The most common reason for which individual burners go out is a clogged nozzle. You can clean them yourself. But if the problem hasn't gone away, you need to call a Cooktop Repair in Vista, CA technician at home.
Why does the induction cooktop turn off/on?
Intermittent turning on and off is a feature of their operation. This is how the user-selected heating power is maintained. The lower it is, the more often the cooktop turns off. But these pulses should be almost imperceptible during cooking.
Why can't the induction cooktop see the cookware?
For normal operation of the induction cooktop requires cookware made of magnetic materials, to have a certain shape and size. The cooking surface itself is not heated, and the heat release and heating of the cookware is due to the impact of electromagnetic waves. 
If you've found your breakdown or have another problem, don't hesitate to contact Home Appliance Repair Center. We've been professionally repairing and servicing appliances for over 20 years. Our technicians at Vista Cooktop Repair and Service won't take long. And your stove will be back in working order for you.
Main Reason to Choose Us
We've been repairing household appliances since 2001. Our experience is your guarantee of quality. We are ready to come to you on the same day and inexpensively carry out high-quality repairs. We use only original spare parts!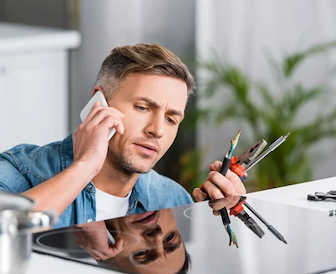 Labor Guaranteed
We provide a 90-day warranty on every repair for every client.

Same Day Service
We carry out repairs on the same day you call us in 95% of cases.

Licence & Insured
Each repairman who works for us has a license and insurance.
Get in Touch
If you need appliance repair services in San Diego County, simply fill out the online form, and one of our representatives will be in touch right away.