Freezer Repair in Santee
If you are looking for professionals who can get your appliances repaired quickly, contact the Home Appliance Service Center. The freezer has become so indispensable that even the slightest malfunction can cause serious problems. Freezer Repair in Santee, CA is quite a sought-after service because freezers are essential appliances in our households. We have experienced craftsmen who know all the features of appliances from different brands and have modern repair equipment, which makes it possible to guarantee an excellent result. 
Why this company? 
A customer will only go to that company for Santee Freezer Repair, which provides the following conditions: fast performance of repair work, a reasonable price. Only then you can trust the firm, only then can you recommend it to friends, acquaintances, colleagues. 
Our company adheres to these principles for all types of work. We adhere to the high speed of execution of the order. After all, there are situations when only prompt intervention of a specialist can help "save" the refrigeration equipment. 
We can quickly and on time replace the broken and failed element. We always have missing parts in our warehouses. This allows less time for your equipment to be idle. In addition, our parts are direct from the manufacturers. We don't participate in any intermediary schemes that allow us to set the most democratic prices for our customers. Freezer Repair in Santee, CA will help you fix the problem without sacrificing quality.
The main malfunctions 
Faulty freezer compartment sensor 
If the freezer sensor does not work properly, the control module (in case of electronic control) will not signal to the compressor to start. Accordingly, the freezing chamber will stop cooling, and after it the cooling chamber will stop cooling as well. 
But for example, in refrigerators of some manufacturers, with defective sensors of the freezer and accordingly non-cooling freezing chamber, the refrigerating chamber will work properly. This is due to the specific device of American manufacturer's products. Sounds simple, but you need the experience of a Santee Freezer Repairs specialist.
The thermostat is defective 
In mechanically controlled refrigerators, manufacturers often install two thermostats, for the freezer and refrigerator compartment. If the thermostat of the freezing chamber is defective, the compressor will start very seldom or will not start at all. Accordingly, the chamber will cool badly or not freeze at all. A Freezer Repair in Santee, CA technician can determine and repair this type of breakdown.
Compressor failure 
This is one of the most serious malfunctions. When this malfunction occurs, the freezer simply does not work: its motor tries to start, works for a few seconds and then shuts down. Also, the engine can either not start at all or work, but make strange noises. Such failures are most often associated with the wear and tear of the components or errors in operation. 
So, if the chamber is constantly overloaded or the equipment is working in the maximum cooling mode in hot weather, it may provoke the exit of the compressor from failure. Unfortunately, more often than not, compressor repair is impossible. To fix the freezer, the compressor motor will have to be replaced with a new one. A Santee Freezer Repair technician will come and take care of everything.
Failure of the control unit 
Most often in such cases, the compressor does not turn on at all. In this case, there are no additional signs of failure. The way to Freezer Repair in Santee, CA in such cases depends on the features of the model, as well as what exactly happened to the control unit. In some cases, it can be reprogrammed. If the control unit is completely out of order, you will need to replace it.
Home Appliance Service Center has been in the market since 2001. All of our craftsmen have more than 20 years of experience, and we also have regular refresher courses. We do Santee Freezer Repair and Service, and all of our customers get all of the services they need from the comfort of their home or office. To contact us, you can call us at the listed number or leave a completed form on the website and our manager will contact you as soon as possible.  
Main Reason to Choose Us
We've been repairing household appliances since 2001. Our experience is your guarantee of quality. We are ready to come to you on the same day and inexpensively carry out high-quality repairs. We use only original spare parts!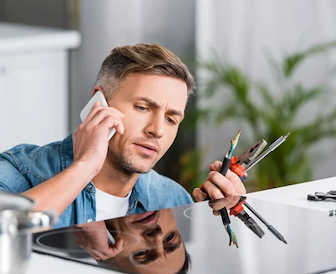 Labor Guaranteed
We provide a 90-day warranty on every repair for every client.

Same Day Service
We carry out repairs on the same day you call us in 95% of cases.

Licence & Insured
Each repairman who works for us has a license and insurance.
Get in Touch
If you need appliance repair services in San Diego County, simply fill out the online form, and one of our representatives will be in touch right away.