Microwave Repair in Vista
Today you can find a microwave in the kitchen of almost every home or office. Microwaves occasionally break down due to improper operating conditions, physical damage, or voltage fluctuations. Employees of Home Appliance Repair Center service center promptly go out on a call to users to perform diagnostics and make repairs of various home appliances. Masters Microwave Repair in Vista, CA brings back to life all well-known brands and models. 
What kind of repairs does our service center perform?
The workers of the repair shop have extensive experience in working with both large and small appliances. Each Vista Microwave Repair technician is trained and tested by an independent commission of the manufacturers themselves. This approach brings the service center together professionals who can fix any microwave breakdown and more.
Microwave Repair in Vista, CA technicians are sure to help if:
The device doesn't turn on
There may be wiring problems, physical damage to the cord, or a faulty thermostat.

The unit won't turn off
There is probably a problem with the relay or timer contacts that supply power to the oven elements. Sometimes the cause is a malfunction in the central control module, in microwaves with electronic control. A Vista Microwave Repairs technician will be able to accurately determine the fault.

The fuse blows
Failure occurs due to voltage fluctuations in the mains.

Microwave oven does not heat
Most often the cause is in the high voltage fuse or magnetron.

You can hear the smell of burning
It could be caused by a capacitor breakdown or a shorted high-voltage transformer. Call Microwave Repair in Vista, CA and they will fix it.

Internal chamber sparks
Sparks can occur for several reasons. If the microwave oven uses metal products. If the protection plate is damaged/burned out or if the chamber itself is damaged. The protective plate must be replaced.

The plate stops rotating
The failure will have several unpleasant consequences: the food begins to burn, crackling will be heard, sparks will appear, and so on. The cause of the breakdown can be as an elementary sticking of the stand, inadequate volume of food, not careful placement of the dish. 
Or failure of the gear reducer pinion, which will have to be replaced with new ones, or slipping of the clutch. A Vista Microwave Repair technician will be able to clearly identify the breakdown and fix it. 
Service conditions at Home Appliance Repair Center.
Our company is open seven days a week. We perform diagnostic and repair work at the user's home. Our Microwave Repair in Vista, CA technicians use only genuine parts from the manufacturers themselves. This is a guarantee of quality and reliability of repair. We have our own parts inventory, which is reflected in the promptness of our repairs. Our services cost exactly what they cost. And all components come at cost. For all brands of microwave repair, we issue an official warranty for up to three months. 
No matter how simple or trivial the breakage may seem, think twice before trying to repair your microwave yourself. Without a certain level of knowledge, tools and experience, it can end sadly for the equipment. Most importantly, it is not safe for you. And you should not trust repairs to non-professionals, who will not be able to give a guarantee on repairs and provide quality components to replace worn out.
If you are facing problems with your microwave or need expert advice, give us a call! Home Appliance Repair Center - bring back the comfort you're used to. Our Vista Microwave Repair and Service technicians know everything about appliances, quality and fast repairs are guaranteed. 
Main Reason to Choose Us
We've been repairing household appliances since 2001. Our experience is your guarantee of quality. We are ready to come to you on the same day and inexpensively carry out high-quality repairs. We use only original spare parts!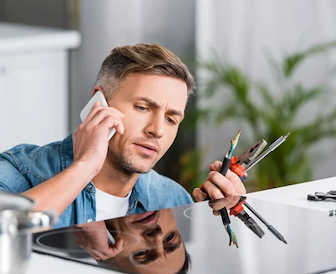 Labor Guaranteed
We provide a 90-day warranty on every repair for every client.

Same Day Service
We carry out repairs on the same day you call us in 95% of cases.

Licence & Insured
Each repairman who works for us has a license and insurance.
Get in Touch
If you need appliance repair services in San Diego County, simply fill out the online form, and one of our representatives will be in touch right away.