Refrigerator Repair in San Marcos
One of the most important household appliances in the house is the refrigerator. Its breakdown becomes a big problem that you want to solve as soon as possible. In case of breakdowns, we recommend addressing at once to the verified experts in the Home Appliance Service Center. Our company performs work related to warranty and post-warranty repair of refrigeration equipment. The professionals at Refrigerator Repair in San Marcos, CA perform quality repairs and on time. Our company has been in the market for appliance repair and commercial refrigeration repair since 2001.Our staff includes specialists with more than 20 years of experience.
The firm's staff consists only of qualified professionals who can provide you with any kind of San Marcos Refrigerator Repair. They won't take up any extra time and we vouch for their work. You will also receive an official guarantee for the provided services. All you need to do is contact us if you notice something wrong with your device!
Refrigerator breakdowns

When you start your refrigerator, you hear a loud knocking noise
The rattle when the motor turns on or off is usually since the various fastener frames, from the condenser mounts to the set screws, have loosened. There are many fasteners inside the refrigerator and only an experienced Refrigerator Repair in San Marcos, CA technician can tell by the sound which specific area is the frame or bolt that needs additional fixation. 
Knocks can also be caused by damage to the refrigerator case, improper installation of the refrigerator, as well as the condensation tube, or rather its fixing. When the bolts are tightened and secured - the suspicious knocks go away, and the refrigerator starts to work normally.

Red light
If you have a red light on, it could mean a broken thermostat or compressor, as well as a freon leak. The first two items involve replacing the part, but in the case of the latter, you need to locate where the cooling circuit is depressurized, repair the damage, and replenish the freon supply. In that case, it's best not to hesitate to contact San Marcos Refrigerator Repairs.

Refrigerator weakly freezes or does not freeze at all
There can be many reasons for temperature increase in the refrigerating chamber: the broken temperature sensor, accidental pressing of defrosting button, the wrong temperature settings, refrigerator overloading with the products, the Freon leak, tightly fitting doors, compressor failure and cooling system breakage. Contact a Refrigerator Repair in San Marcos, CA technician for a more accurate diagnosis.

Refrigerator doesn't turn on
The cause is usually a lack of line voltage or too low to operate the compressor, a faulty outlet, plug or power cord, a faulty thermostat, relay or auto-defrost button, problems in the control box or a faulty compressor.

Compressor won't shut off
Usually, the motor runs for a few minutes, shuts off for a few minutes and then turns back on. If the refrigerator stopped turning off, it means a breakdown - in this mode, it will quickly fail. Causes: poorly closed door, activated super-freezing or super-cooling functions, too high room temperature, defective temperature sensor, thermostat or control module, clogged capillary tube, freon leakage or worn-out compressor.

Refrigerator leaks
Usually caused by hot food, a clogged drain or high humidity in the room.
Don't forget that San Marcos Refrigerator Repair can fix the problem without any loss of quality.

A clogged drainage system
This kind of malfunction is more common in refrigerators with a static cooling system. The drainage system ensures the removal of moisture from the refrigerator into a special container near the compressor, from where it evaporates. The drain system often becomes clogged with residues from the food stored in the refrigerator. 
Most often this happens due to the lack of regular maintenance and washing of the refrigerator. Also, a clogged drainage system causes the refrigerator to leak. To remove the clog, you need to use a special plastic tool that comes with the refrigerator or a thin wire. Our specialists in Refrigerator Repair in San Marcos, CA will fix this problem.
From the above reasons, it is quite difficult to determine exactly the failure node. Please note, if you notice that there is a problem with your refrigerator, it is best not to delay, and unplug the appliance and call a master Home Appliance Service Center. Sometimes timely diagnostics by San Marcos Refrigerator Repair and Service specialists and small repairs can save you from a major breakdown and expensive repair or what's worse, from buying a new refrigerator.
Main Reason to Choose Us
We've been repairing household appliances since 2001. Our experience is your guarantee of quality. We are ready to come to you on the same day and inexpensively carry out high-quality repairs. We use only original spare parts!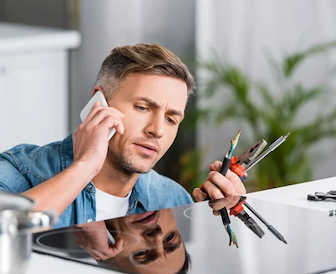 Labor Guaranteed
We provide a 90-day warranty on every repair for every client.

Same Day Service
We carry out repairs on the same day you call us in 95% of cases.

Licence & Insured
Each repairman who works for us has a license and insurance.
Get in Touch
If you need appliance repair services in San Diego County, simply fill out the online form, and one of our representatives will be in touch right away.