Wine Cooler Repair in Rancho Penasquitos
Wine coolers are a worthy and profitable alternative for storing expensive wine brands. Under the conditions of a wine cooler, they mature and retain their quality longer. However, the cabinets must be able to operate accurately according to their humidity and temperature settings. If there is a design malfunction, you need to have your wine coolers repaired immediately. Home Appliance Repair Center has been professionally taking care of your appliances for over 20 years. Our team of Wine Cooler Repair in Rancho Penasquitos, CA specialists will fix all of your appliance breakdowns quickly and efficiently.
The main differences between wine coolers
Manufacturers make built-in or freestanding equipment with 1-3 temperature zones ranging from 42 - 65°F with precise electronic control. For wine cabinets, it's especially important to maintain ideal storage conditions for your wine variety. A front panel with a tempered glass pane provides a clear view of the contents while protecting the bottles from UV rays.
The wine coolers are equipped with dynamic compressors and circulate air throughout the interior for even temperature and humidity distribution. Since even a slight vibration affects the quality of the drink, models are equipped with stable shelves and improved vibration protection.
What are the most frequent faults of wine cabinets that people come to our service center with?


The desired temperature inside the wine coolers is not maintained
This can signal a freon leak, fan malfunction, failure of heat and moisture sensors or control unit. To determine the cause and repair, you should call a technician specializing in Rancho Penasquitos Wine Cooler Repair.
Strong noise or vibration has appeared
The cause may lie in the improper installation of the wine cooler. A more serious cause may be a malfunctioning compressor, manifesting as a strong rattling and vibration. A Wine Cooler Repair in Rancho Penasquitos, CA technician can find the exact cause and fix it.
The compressor won't shut off
The cause is a broken temperature sensor or control unit. Don't delay in calling a Rancho Penasquitos Wine Cooler Repairs technician. Doing so may prevent the motor from burning out.
Lack of light indication or frequent on/off cycles
This indicates damage to the electronics and automation. Repair consists of replacing individual elements or boards. Call a Wine Cooler Repair in Rancho Penasquitos, CA technician to fix the problem.
Leaking wine cooler
This can be the result of a worn or dirty door sealing contour. Or improper installation of door hinges. It is better to call a Rancho Penasquitos Wine Cooler Repair technician right away, and replace the seal, than to have the compressor repaired later.

Recommendations that will extend the life of your wine cooler
Regular maintenance of the wine cabinet - 1-2 times a year, depending on the intensity of use of the equipment and the manufacturer's recommendations. To refill the refrigerant, check the reliability of connections. To check the tightness of the wine cooler, diagnose the working systems, as well as minor repairs of worn parts.
With frequent power surges, the installation of a voltage regulator is recommended.
Avoid frequent relocations of the cabinet, which can lead to brittle copper tubing.
When you contact the professionals at

Wine Cooler Repair in Rancho Penasquitos, CA,

you can rest assured that a problem of any degree of complexity will be fixed promptly and to a high level of quality. Only genuine replacement parts will be used in the repair process, and they are backed by the manufacturer's warranty.
It is not advisable to operate malfunctioning equipment, as it is fraught with undesirable consequences. The quality of your drinks may deteriorate, and the equipment may break down permanently, leading to more costly repairs. 
At Home Appliance Repair Center, all requests are handled promptly, and technicians are available on the day of the order. The Rancho Penasquitos Wine Cooler Repair and Service team is equipped with everything you need, tools, and supplies. Specialists perform accurate diagnostics and fix breakdowns on the spot. We work only with original components. This is a guarantee of quality and reliability of repair. And at the end of the job, we provide a three-month warranty.
Main Reason to Choose Us
We've been repairing household appliances since 2001. Our experience is your guarantee of quality. We are ready to come to you on the same day and inexpensively carry out high-quality repairs. We use only original spare parts!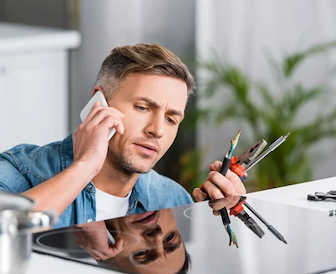 Labor Guaranteed
We provide a 90-day warranty on every repair for every client.

Same Day Service
We carry out repairs on the same day you call us in 95% of cases.

Licence & Insured
Each repairman who works for us has a license and insurance.
Get in Touch
If you need appliance repair services in San Diego County, simply fill out the online form, and one of our representatives will be in touch right away.