Rheem Air Conditioner Repair
We have long been accustomed to the comfort that air conditioners create in our home, regardless of the weather outside the window. Rheem air conditioners deserve a special place, they are famous for their quality, usability and reliability. But as well as everything in our world, nothing is everlasting. If your air conditioner is broken, you should not get upset. Experts of the company Home Appliance Service Center will come to your help and fix any breakage. All you have to do is order a Rheem Air Conditioner Repair in San Diego County and your home will be comfortable and fresh again.
Since 2001, our company has been servicing and repairing all major brands and models of appliances every day, seven days a week. We do Rheem Air Conditioner Repair and Service and routine maintenance, as domestic appliances, and commercial. For our specialists, there is no breakdown they can't fix.
The policy of our company
Our motto is an individual approach to each client and his/her equipment, so that the client is satisfied, and the equipment is in working order.

Professionalism of the entire team
We work quickly and efficiently with well-established technology. Our licensed specialists are regularly updated courses from manufacturers. Masters carry out Rheem Air Conditioner Repairs from the simplest to the newest and most sophisticated appliances. We have technicians with over 20 years of experience.
Our official partners are all well-known appliance manufacturers
We work in close partnership with appliance manufacturers. We have our own warehouse and direct supplies of spare parts from most manufacturers, including Rheem. Necessary components from switches to compressors are always available. 
This also affects the timing of work and allows you to build a good pricing policy for customers. Our state-of-the-art warehouse keeps spare parts according to technical standards and requirements. We'll get your Rheem Air Conditioner Repair and Service done quickly, and you'll continue to enjoy their fine-tuned performance. 
Promptness
We know how important it is to get your air conditioner back in working order quickly. After you leave an order on our site, you will be contacted by our manager to clarify the nature of the breakdown, model, and operating time. That will allow the technician to prepare in advance all the necessary spare parts and tools for repair at your home. A specialist will quickly make a diagnosis, determine the cause of the failure and immediately begin to fix it. After all, we have everything at your fingertips, the latest tools, and the necessary spare parts. Order Rheem Air Conditioner Repair and in 90% of cases repairs take one day.
Guarantee your work for up to 3 months
Our handyman is responsible for all work done and gives you a 90-day warranty. During this period, you can contact us at any time with any questions. But this is rather an exception, because we know how to do our work qualitatively, so that your air conditioner works reliably. 
Affordable prices
How is the price of our services formed? Price of spare parts is at cost price from the manufacturer. And masters charge for Rheem Air Conditioner Repairs and Services exactly as much as it costs. By contacting the Home Appliance Service Center, you can save money on new appliances.
If you are faced with the choice of going to a service center or fixing the problem yourself. Do not rush to make hasty decisions and start the Rheem Air Conditioner Repair yourself. This can further aggravate the failure and make it irreversible. After all, turning to professionals is the guarantee of reliability and efficiency of repair. An experienced technician will be able to make an accurate diagnosis to the smallest detail, to replace worn parts and make recommendations for the further use of technology, to extend its life.
By contacting the Home Appliance Service Center, you can save money on new appliances. We value your nerves, your time and the trust of our customers. That is why we understand how important it is to restore functionality of your air conditioner. Do not wait! Make a request at our service center and wait for the arrival of the master Rheem Air Conditioner Repair and Service. Our expert will quickly and efficiently fix any breakdown, at your home, and leave a warranty certificate upon completion of his work. Your comfort is not just words to us!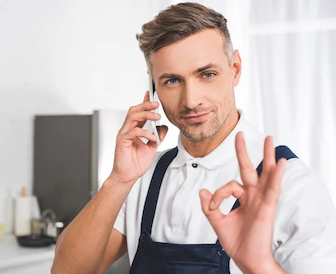 Main Reason to Choose Us
We've been repairing household appliances since 2001. Our experience is your guarantee of quality. We are ready to come to you on the same day and inexpensively carry out high-quality repairs. We use only original spare parts!

Labor Guaranteed
We provide a 90-day warranty on every repair for every client.

Same Day Service
We carry out repairs on the same day you call us in 95% of cases.

Licence & Insured
Each repairman who works for us has a license and insurance.
Choose the brand of your Refrigerator
We repair all popular models of residential appliances from major brands. Find your Refrigerator brand in the list below and click on it for helpful information. Call us or fill out the feedback form, and our repairman will come to you on the same day. Rely on us and we will prove that we are real professionals!