Stove Repair Service
The failed stove is not only unpleasant but also an extremely dangerous thing. Dealing with gas and producing heat and fire, this appliance always requires particular attention. Never doubt call Home Appliances Service Center if you think that your stove is malfunctioning. We are ready to assist you anytime and at an affordable price. Our quickest and most qualified technicians always provide the best Stove Repair in San Diego County of flawless quality.
For our specialists, it does not matter what is the brand or model of your stove is. They can deal with any and have regular training to refine their skills and qualification even more. And they can cope with Stove Repair and Service even for the latest luxury appliances as well! 
Having over 20 years of working with household and commercial electronics, we have made many customers glad about our work. They leave 5-star reviews on the net and recommend us to other people. It means that we conduct reliable Stove Repair in the most comfortable conditions. 
Dealing with these appliances, the most typical troubles we have faced are:
You cannot turn the stove on or off.

The flame goes out itself, flickers, or sparkles.

Unstable gas/electricity supply, as wiring, isolation, plug, ignition, or gas valve is defective.

Too low or strong flame or heat, which cannot adjust to the required level, or it takes too long to reach it.

Some of the heating elements (burners, coils, tans, broilers, baking, or induction elements) are not working.

The induction surface is spoiled or has a loose connection.

The burners are clicking or hissing while you are turning them on.

Strange noises from burners or the very stove.

The unusual color of the flame (yellow, orange, or red).

The smell of gas or burn while the stove is on.

Gas is leaking while the appliance is off.

Knobs, switches, buttons, grates, drawer mechanisms, burner covers, leveling feet, belts, and fan blades are faulty, malfunctioning, or lost.

Broken door (cracked glass, worn-off gasket, or deformed springs, hinge, or joints).

Convention fan, gas ports, or vent tube obstructed with grease, dust, or crumbs.

Exterior indicators or interior bulbs are blinking or not shining at all.

Software issues (control panel malfunctions, timers, and controllers are not working, the screen shows an error, or shows nothing, etc.).

Failed fan, thermostat, motor, heating elements, or other hardware parts.
The assistance of a qualified technician becomes imperative in addressing these and myriad other concerns. Even in situations where uncertainty prevails, the judicious course of action entails summoning professionals to facilitate a consultation or remote diagnostic evaluation. This service is proffered to you without cost, expeditiously affording you insights into the state of your stove and the underlying cause of its malfunction.
Moreover, we shall provide comprehensive guidance on the steps required to rectify the issue, as well as furnish you with an approximate estimate pertaining to the requisite Stove Repair and Service.
We complete an absolute majority of Stove Repair the same day you apply for them. Another option is an emergent arrival 24/7, including days off and non-working hours, for a slightly higher cost. It makes us arrange the departure of the technician from the nearest local office 15 minutes after your call. 
If we indicate that the Stove Repair is not rational or cost-effective, we will clearly inform you about it. We can also help to pick a replacement according to your requirements and budget. We appreciate your trust and never want to waste your time or money.
You can be sure of the highest quality and speed of proceeding with any Stove Repair and Services. We provide every technician with only professional equipment and materials, along with original spare details. Additionally, we back up all work with a long-term warranty, as we are in charge of everything we do. So, you should not worry that your appliance fails again, performs not smoothly, squeaks, or totters after we finish.
Our technicians are real professionals in all types of Stove Repair and Service! If you apply to us, you can be sure of getting your appliance running like a clock. Just contact Home Appliances Service Center anytime! Our friendly, qualified, and experienced team will help you in the soonest term! We always proceed with any tasks at the fairest price and in the most stressless way.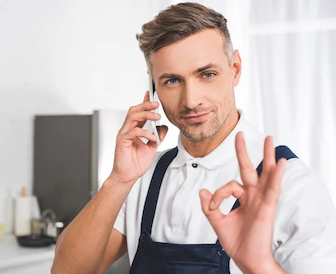 Main Reason to Choose Us
We've been repairing household appliances since 2001. Our experience is your guarantee of quality. We are ready to come to you on the same day and inexpensively carry out high-quality repairs. We use only original spare parts!

Labor Guaranteed
We provide a 90-day warranty on every repair for every client.

Same Day Service
We carry out repairs on the same day you call us in 95% of cases.

Licence & Insured
Each repairman who works for us has a license and insurance.
Choose the brand of your Stove
We repair all popular models of residential appliances from major brands. Find your Stove brand in the list below and click on it for helpful information. Call us or fill out the feedback form, and our repairman will come to you on the same day. Rely on us and we will prove that we are real professionals!