Oven Repair Service
Every owner of an oven sooner or later faces any malfunction of this appliance. Due to working with fire and high temperatures, it may be a danger for you when it works wrong. Home Appliances Service Center has over 20 years of experience in working with commercial and private units. If you notice that your oven runs wrong and want to get the most effective solution, just contact us! We conduct the quickest Oven Repair in San Diego County of the highest quality and at the fairest price.
The perfect first step when any appliance of yours does not work properly is to get advice from a specialist. Our company gladly provides every client with a free consultation and remote diagnostics to clarify the situation. It helps to plan actions to fix it and announce the approximate cost of the needed Oven Repair and Services.
If we indicate that the repair is not rational or cost-effective, we will let you know. Our goal is to provide you with the best conditions, but not waste your time and money. Thus, we clearly inform you what you pay for and our prices for Oven Repair are the fairest.
You can pick any suitable time for our technician to come to your place from our local office. It is also possible to organize an urgent arrival during days off and non-working hours for a little higher price. Still, we complete over 90% of all Oven Repair and Services the same day when you apply. Our friendly team is 24/7 ready to assist you!
Working with ovens, the most often breakages and issues we face are:
The appliance is not turning on or off.

Cracked, lost, or malfunctioning knobs, switches, or buttons.

Broken door glass, springs, hinges, or warped seal.

Faulty or blinking bulbs or indicators.

Disturbed gas or electricity supply.

It does not self-cleanse.

Defective controllers, thermometers, thermostats, thermal fuse, energy regulators, convection fan motors, or any heating elements, like tans, coils, grills, induction, baking, or broiling elements.

It produces not enough or too much heat or heats too slowly or unevenly.

The item's body gets too hot while the oven is on.

Strange noises, vibrations, or smells of gas or burning (especially dangerous is the smell of gas when it is off).

A need to replace the drawer mechanism, controlling modules, wiring, isolation, plug, pilot light, safety valve, fan baffles, or blades.

Burners, gates, coils, filters, gas lines, vent tubes, or convention fans are dirty or blocked with grease, dust, or crumbs.

Timers and controllers are not reacting, the screen is blank or shows an error or the whole control board is not working.
We have solved these and other troubles with ovens many times. All our clients are glad about the result of the Oven Repair, completed by our talented and neat repairmen. We are sure of it because most of our customers are coming back to us with other issues too! Plus, they recommend our company to others and post many positive reviews on Google.
Besides the opinion of our clients, our reliability is also proven with time. We successfully withstand competition with other service centers since 2001. We believe that it is possible only for a company, which offers decent quality and the best attitude. To make you even more confident in our responsibility, we provide each Oven Repair and Service with a long-term warranty.
There is no such model or brand of household or commercial oven, which we cannot deal with! Our technicians have licenses even for the latest and luxury ones. They develop skills and knowledge all the time to be ready to provide you with the best result in any situation. Thus, we conduct each Oven Repair fluently and make your item perform like brand-new again! Another reason for the flawless quality of our work is the usage of the best professional tools, equipment, and materials. Together with perfectly fitting spare details, it assures smooth functioning without squeaking or tottering. 
Affordable prices, round-the-clock availability, brilliant quality, and the shortest terms of completing work - it is not a dream. It is a description of the decent Oven Repair and Service provider. And that all is about Home Appliances Service Center! We provide qualified help any moment you need it, with the most comfortable conditions and the friendliest attitude! Just contact us by phone call or application form on our webpage.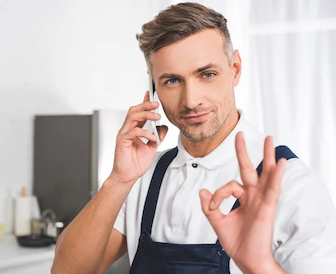 Main Reason to Choose Us
We've been repairing household appliances since 2001. Our experience is your guarantee of quality. We are ready to come to you on the same day and inexpensively carry out high-quality repairs. We use only original spare parts!

Labor Guaranteed
We provide a 90-day warranty on every repair for every client.

Same Day Service
We carry out repairs on the same day you call us in 95% of cases.

Licence & Insured
Each repairman who works for us has a license and insurance.
Choose the brand of your Oven
We repair all popular models of residential appliances from major brands. Find your Oven brand in the list below and click on it for helpful information. Call us or fill out the feedback form, and our repairman will come to you on the same day. Rely on us and we will prove that we are real professionals!