Thermador Oven Repair
Thermador company cares about the reliability of its own production, but it still does not mean that having an oven from this manufacturer, you cannot face issues caused by time, accidents, voltage surges, or even just improper maintenance. If a breakage happens, Home Appliance Service Center is always around to conduct the most reliable Thermador Oven Repair in San Diego County at the soonest time and at an affordable price.
A decent service center is not only about the highest quality and reliability of the Thermador Oven Repair and Service but also about a proper attitude to each client, providing the most comfortable conditions and stressless processing of all the needed work. 
We have that all perfect: friendly and polite staff is ready to listen to your troubles and resolve any issue perfectly, making the appliance run like a clock, and its owner satisfied. We have tons of positive reviews from our customers, which are the best appraisal and proof of us developing in a proper direction.
Over 20 years so far, all our team daily faces and successfully eliminates situations when Thermador Oven Repair is needed, and even the oldest and the most unique models are getting back to normal after appearing in the caring hands of our professionals. 
Talking about the experience, this long period means the level of qualification and skills and reliability, as all this time we are withstanding competition and only getting better every day for you. 
Surely, the main reason for it is the highest responsibility and thus, the quality of work we do. And its flawless result is always backed up with a guarantee, so you know we are responsible for our own actions.
Ovens often require a replacement of some details, and we use original parts with the best professional equipment and tools, to be sure of the most precise and solid work regardless of what exactly is the issue. If you can't fix it yourself or figure out what's causing the problem, call Thermador Oven Repair and Service.
The most common of them are:
The item cannot be turned on or off;

The very appliance turns on, but heating elements do not produce any heat or flame;

The temperature gets too high or too low and cannot be set to the needed level;

The food is heated/cooked unevenly;

Strong vibrations, unwanted sounds, or the smell of gas or burn;

Gas or electricity cannot be supplied as wire, plug, safety valve, or igniter is spoiled;

The self-cleaning function fails;

Indicators or bulbs are going on and off or do not shine at all;

The door is cracked or cannot be normally opened or closed, as the seals, springs, or hinges are deformed;

Burners, gates, filters, gas ports, vent tubes, or convention fan clogged with grease or crumbs;

Buttons, knobs, handles, switches, drawer mechanism, leveling feet, or other parts are damaged or lost;

Control pad needs recalibration (timers or controllers not working, settings cannot be changed, information screen shows wrong information, an error or does not work at all);

Coils, heating, broiler or baking elements, thermal fuse, thermostat, energy regulator, convection fan, baffle, motor, or fan blades require fixing or replacement.
A technician who specializes in Thermador Oven Repair can determine the cause and repair the problem.
It may not be easy for you to find out the exact reason for the trouble, but you can anytime get a free consultation and remote diagnostics by just calling Thermador Oven Repair and Services. The technician will clarify the situation to you, telling you what should be done and how much it will cost. The price of our work is always fair, and if we find out that fixing your oven is not a cost-effective decision, we will honestly tell you. 
We complete over 95 percent of applications for Thermador Oven Repair on the same day, as we care for yours and our time. And for a small extra, we will send the technician to your place in 15 minutes after you apply even on days off or during non-working hours, as our local office is available round-the-clock to serve your needs.
Our company is the best choice for everyone, who cares about the quality of Thermador Oven Repair and Service provided to their appliance. And we offer not only the most reliable but also the quickest result at the best price! Just contact us in any suitable way and our team will do all the needed procedures in the best way! Just call Home Appliance Service Center or fill in an online form and be sure that the most reliable repair work of the highest quality and at the fairest price is already on its way to you!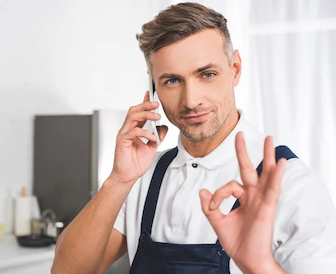 Main Reason to Choose Us
We've been repairing household appliances since 2001. Our experience is your guarantee of quality. We are ready to come to you on the same day and inexpensively carry out high-quality repairs. We use only original spare parts!

Labor Guaranteed
We provide a 90-day warranty on every repair for every client.

Same Day Service
We carry out repairs on the same day you call us in 95% of cases.

Licence & Insured
Each repairman who works for us has a license and insurance.
Choose the brand of your Refrigerator
We repair all popular models of residential appliances from major brands. Find your Refrigerator brand in the list below and click on it for helpful information. Call us or fill out the feedback form, and our repairman will come to you on the same day. Rely on us and we will prove that we are real professionals!