Wolf Oven Repair
Surely, having such a luxury appliance you do not want to lose much time when it breaks or malfunctions, so the solution should come as soon as possible. Home Appliance Service Center has taken care of such situations, so we are ready to rush to assist you anytime! The swiftest, fair-priced Wolf Oven Repair in San Diego County of the highest quality will be provided to you at any needed moment.
A perfect service provider should have at least three main points satisfying your need: quality, speed, and price Wolf Oven Repair and Service. Our company does great in them all, and even more!
The flawless quality of Wolf Oven Repair we provide is reached because of several aspects:
Over 20 years of daily gaining experience with all models of ovens, studying their construction, details, functioning, and all new technologies appearing;

Great skills refined all the time;

The most responsible and careful attitude to any conducted process;

Professional equipment and original spare details, making the work even more precise and solid.
To reach the best speed, we have opened multiple local departments, including San Diego one. It lets us quickly react to your application and resolve the issue on the same day. We also offer an urgent technician to you, when you want to pay a small extra fee to make him rush to you in 15 minutes after your call to Wolf Oven Repair and Service  specialists. 
The price we set is one of the favorite points for many of our clients. We do not overcharge, as your trust and comfort are our primary goals. 
We know that when you get a decent service for an affordable price, it will make you get back to us in case of another need and recommend us to others, as it actually happens with numerous customers, who are fully satisfied with all our Wolf Oven Repair and share positive reviews. 
That is why we care about our relations and are fair and clear with you not only in money questions but also when talking about the condition of your appliance. We never pretend to do more than we have done or to fix an appliance, which is beyond the Wolf Oven Repair and Services.
Another feature we offer is a long-term guarantee for all our work. We want you not only to hear about our responsibility, but also to have actual proof of that.
How to understand that you need to apply for Wolf Oven Repair? In Any Case, you should do it if you are not glad about the way it functions. 
Some of the most common oven troubles are:
Worn out wires, plug, safety valve, or faulty igniter, what causes disturbed gas or electricity supply;

The door has broken glass, lost handle, or bent out hinge/springs/gasket;

The fan is clogged, its motor failed, or blades are broken;

Coils, induction or bake element take too long to heat to a needed temperature, or do not produce heat at all;

You cannot use a control pad properly, timers and controllers do not let you adjust needed settings;

The food is not cooked evenly;

You hear clicking, humming, buzzing, or notice vibrations or bad smells from your appliance;

Burned out indicators or bulbs;

Cracked or lost buttons, knobs, switches, and drawer mechanisms;

Obstructed gas lines, vent tube, convention fan, burners, filters.
A solution may take minutes of cleaning, or may also need a replacement of heating elements, fuses, thermostats, or other inner details. To detect it, special knowledge is needed, and our specialists are ready to help clarify the situation. 
Before inviting the technician, you may get a free consultation or remote diagnostics to find out what caused your oven to behave wrong, how to solve it, and how much approximately it will cost. So after that, our worker will be able to go to you having a needed detail at once. You should not worry if your oven is too old or rare, as we can deal with any!
Our friendliest managers are ready to help you out with organizing Wolf Oven Repair and Service the best way! Just call Home Appliance Service Center or fill in the form on our webpage, and we will shortly provide you with a stressless, cost-effective, and reliable solution in case of any trouble with your appliance!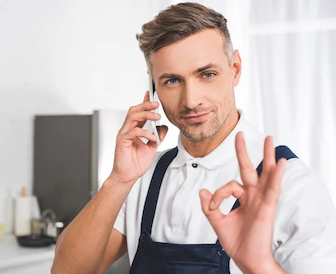 Main Reason to Choose Us
We've been repairing household appliances since 2001. Our experience is your guarantee of quality. We are ready to come to you on the same day and inexpensively carry out high-quality repairs. We use only original spare parts!

Labor Guaranteed
We provide a 90-day warranty on every repair for every client.

Same Day Service
We carry out repairs on the same day you call us in 95% of cases.

Licence & Insured
Each repairman who works for us has a license and insurance.
Choose the brand of your Refrigerator
We repair all popular models of residential appliances from major brands. Find your Refrigerator brand in the list below and click on it for helpful information. Call us or fill out the feedback form, and our repairman will come to you on the same day. Rely on us and we will prove that we are real professionals!