LG Oven Repair
A common need for all owners of LG ovens is to find a decent provider of services for maintaining and repairing their appliances. Talking about a top-quality item, the needed company should offer the highest level of qualification, responsibility, and customer focus. It is an exact description of Home Appliance Service Center, and with our vast experience of over 20 years, we've made a reputation as a reliable company, offering stressless, quick, and cost-effective LG Oven Repair in San Diego County with a long-term guarantee.
Every member of our team has a clear vision of his principal task and can perfectly deal with everything needed. Our managers are the friendliest helpers, who are ready anytime to answer any of your questions and help to pick the most suitable time of repair for you, as all processes are customized in the best way to save maximum your time and nerves. And our technicians are very keen on their work. 
They develop their skills and knowledge daily, so there is no such task for LG Oven Repair and Service of any model which they would not be able to fix. They know every single detail, its position, and functions, so can easily detect a reason for malfunctions and pick the best suitable replacement part. We use only top-level professional tools and original details, which ensure everything fits perfectly, without creaking or staggering.
Breakages of different complexity can be quickly solved due to such high proficiency and a responsible attitude. Most cases when you need LG Oven Repair are caused by a damaged door (hinges, springs, seals, glass), igniter, heating tan, broiler element, thermostat, fuse, or fan motor. 
Our specialists find a needed solution in no time even remotely, so we recommend you to call professionals who practice LG Oven Repair and Service. 
You can also get a free consultation or diagnostics to clarify the situation and the cost of LG Oven Repair.
Then, with all the needed equipment, our specialist will rush to you to make your appliance LG Oven Repair and Services the same day. To speed it up even more, or to get assistance during non-working periods, you can pay a little extra and make the technician depart to you within 15 minutes after your call even late at night, which may be an important decision for troubles with a failed gas oven. 
Besides eliminating those breakages as soon as possible, we also often face less severe but still important things to solve, like clogged gas lines, fans, burners, gates, vent tubes, recalibrating control modules when timers and controllers do not function properly or replacing bulbs, handles, knobs, buttons, switches, drawer mechanisms, fan blades, or baffles. 
The very issue is often not that easy to define exactly without special knowledge and experience, so feel free to call us for advice or to apply for the arrival of the specialist if you face such troubles as:
The oven cannot be turned on;

It does not produce any heat at all;

You cannot set a needed temperature, and it is too high or too low;

The food is not cooked evenly;

The oven does not self-clean (for ones that have such a function)

While working, the appliance buzzes, clicks, vibrates, etc.
Normally, all those issues are easily and quickly solved for you by us. Rarely it may happen that we estimate the price of the LG Oven Repair to be not cost-effective due to expensive spare parts, or when the appliance is beyond repair. 
Not to waste time and money, we will clearly inform you, as we are always honest with our dear customers. And it is appreciated, as we see that most of our clients recommend us to friends and share positive reviews, which is a huge happiness for us.
We are always close and ready to care for your appliance at any moment. Call Home Appliance Service Center or place an online application anytime to get a brilliant LG Oven Repair and Service without wasting time or money, as with us, you always know what you pay for!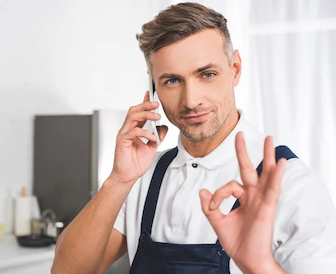 Main Reason to Choose Us
We've been repairing household appliances since 2001. Our experience is your guarantee of quality. We are ready to come to you on the same day and inexpensively carry out high-quality repairs. We use only original spare parts!

Labor Guaranteed
We provide a 90-day warranty on every repair for every client.

Same Day Service
We carry out repairs on the same day you call us in 95% of cases.

Licence & Insured
Each repairman who works for us has a license and insurance.
Choose the brand of your Refrigerator
We repair all popular models of residential appliances from major brands. Find your Refrigerator brand in the list below and click on it for helpful information. Call us or fill out the feedback form, and our repairman will come to you on the same day. Rely on us and we will prove that we are real professionals!