Miele Oven Repair
Thousands of people all over the globe face trouble with their appliances every day, and ovens have a big part in that amount, being pretty popular items in many kitchens. Do you know what differentiates you from them? You have a local department of Home Appliance Service Center close, which lets you solve any breaks with just one call! Our company gladly offers only the most reliable Miele Oven Repair in San Diego County at the most favorable prices at any time since 2001.
Getting the best Miele Oven Repair and Service is easy if you apply to us! 
Even if you aren't sure yet of the need for the Miele Oven Repair, you can clarify the situation by just calling and getting free consultation or remote diagnostics. In most cases, it helps to indicate what our technician should do, which professional tools and original details he needs to take, and how much the work will approximately cost. 
We have all the needed equipment, materials, exceptional skills, and constantly developing knowledge to cope with the repair of any difficulty, no matter what model is your appliance and how long ago you bought it. 
The major function, which is demanded by all ovens owners, is producing heat for cooking food. And it is pretty obvious that when this item stops providing us with it, it is time to apply for a Miele Oven Repair and Service. But besides that, there is a huge amount of other malfunctioning and breakages, which are often ignored and lead to total failure later. 
The most common of them are:
Unstable gas or electricity supply, caused by failed igniter or safety valve, disturbed wires or plug;

Heating to a needed temperature takes too long, or you cannot adjust it to a needed level at all;

The door is broken or has a spoiled hinge or gasket;

The control pad does not function, so needs a recalibration or replacement;

It does not self-cleansing as it should;

Uneven preparing/heating the food;

Humming, buzzing, clicking, or vibrating;

Gas ports, gates, burners, vent tubes, filters, or fan elements have not been cleaned for long;

A need to fix or replace any inner parts (fan motor or blades, baffles, thermostat, thermal fuse, heating or broiler elements, drawer mechanisms, flashing lights, or bulb) or surface elements (handles, buttons, knobs, switches).
When it gets clear that you want to invite the technician, another question appears: when will he arrive? You do not need to worry about it if you apply to our company, as almost all applications are covered within the same day. 
When an emergency happens during non-working hours or days off, we still are here for you and ready to come any moment for a slightly higher price for urgency.
As the technician came to your address, you will soon forget that you had your oven failed! Due to extended experience and highly refined skills, our specialists proceed with Miele Oven Repair swiftly, precisely, and tidily, so your room will be clean, and your oven will work like new! 
Rarely, but it happens, that the appliance appears not to be advisable to Miele Oven Repair and Services. In such an unpleasant situation, we will certainly inform you not to waste your time and money. If needed, we can also help you to choose a replacement depending on your needs and budget.
As the repair is done, you get a long-term warranty for our work, so you know we have treated it with all the responsibility. Hopefully, after estimating the result, you will become one of our satisfied clients, who share all the excellent reviews and comments about our proficient Miele Oven Repair. 
Applying for a top-rank Miele Oven Repair and Service takes less time than you have spent reading this. Just call Home Appliance Service Center or fill in an online form and be sure that the most reliable repair work of the highest quality and at the fairest price is already on its way to you!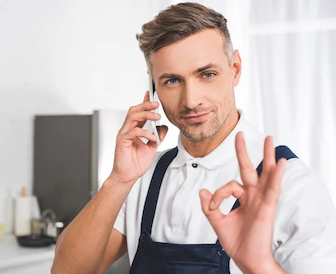 Main Reason to Choose Us
We've been repairing household appliances since 2001. Our experience is your guarantee of quality. We are ready to come to you on the same day and inexpensively carry out high-quality repairs. We use only original spare parts!

Labor Guaranteed
We provide a 90-day warranty on every repair for every client.

Same Day Service
We carry out repairs on the same day you call us in 95% of cases.

Licence & Insured
Each repairman who works for us has a license and insurance.
Choose the brand of your Refrigerator
We repair all popular models of residential appliances from major brands. Find your Refrigerator brand in the list below and click on it for helpful information. Call us or fill out the feedback form, and our repairman will come to you on the same day. Rely on us and we will prove that we are real professionals!