Dishwasher Repair Service
Are you looking for the best Dishwasher Repair in San Diego County? Remember to pay attention to the reliability of the company you are going to apply to. One of the most significant indexes is a big number of satisfied clients and positive reviews. If you see customers recommending the company to others, it means a decent quality. Another point is how long the company is withstanding competition. Those are the best indicators of a dependable service provider. And that is what Home Appliances Service Center has gained by working with household and commercial electronics since 2001.
It is always a wise decision to call a specialist when you have your dishwasher broken or malfunctioning. Qualified masters from our company will prevent you from wasting huge amounts of money and time. Calling professionals also shields you from breaking your appliance even more, or from being in danger of electrocution. Applying to us, you always get the safest, most proficient, and most neat Dishwasher Repair and Service!
Our technicians have perfectly refined skills and an outstanding level of qualification, which are regularly improving. Thus, we are always capable of dealing with all types of Dishwasher Repair for all brands and models. It is including the rarest, latest, and oldest models, budget and premium-rank ones! It also means that our workers quickly find and solve the problem and conduct everything neatly, precisely, and safely. 
The materials, equipment, and tools we use for all Dishwasher Repair and Services are the top-rank professional ones. For any needed replacement, we pick perfectly fitting spare details or high-quality alternatives. It also helps us to reach the most precise and long-lasting results.
We provide each Dishwasher Repair with a long-term guarantee. So, you do not have to worry about our responsibility and trustworthiness. Regardless of the complexity of the problem we are dealing with, you always get the friendliest and most honest attitude! And when we complete the task, your appliance runs like a brand new one for a fair and affordable price!
Various troubles may happen to your dishwasher, and the most common of them are:
You cannot turn the unit on or off.

The electricity, detergent, or water supply is disturbed.

Dishes remain oily, wet, covered with leftovers or foam, or go out broken.

The water of foam leaks outside.

The dishwasher is not filling with water or is filling non-stop.

It is not draining and has an unpleasant odor. 

The washing cycle does not start, takes too long, shuts off abruptly, or does not finish.

The control pad failed, so you cannot adjust any settings, the screen shows an error, or timers and controller's malfunction.

Any of the parts (hoses, filters, handles, knobs, switchers, buttons, holders, wires, plugs, float switches, belts, seals, leveling feet, cutlery baskets, slide arms, water inlet valves) are worn-off, damaged, or lost.

It heats much while working.

Light indicators or bulbs are going on and off or not shining at all.

The door does not properly latch, close, or open (due to spoiled gaskets, latches, door switches, locks, joints, springs, or hinges) or has its glass cracked.

Pieces of food and other dirt clog the spray arm, sump strainer, filter, hose, or pipes.

Dysfunctional timers, motors, pumps, heating elements, thermostats, or other parts.

You hear strange noises, vibrations, or smells while it is working.
As the dishwasher is constantly in contact with water, it may be a source of danger. So, if you notice anything wrong with it, unplug it as soon as possible and then call the specialist. The closest local office of Home Appliance Repair Center is ready round-the-clock to get in touch with you. You can set any convenient time for our technician to come to your place for conducting Dishwasher Repair and Service. 
Usually, we finish all Dishwasher Repair on the same day when getting the application. Urgent arrival during non-working hours and days off costs slightly more but ensures that we will be there immediately. In such situations, the repairman leaves the office within 15 minutes after you apply for it. You can also get free consultations or remote diagnostics to indicate how serious the breakage is by explaining the situation. Thus, we will quickly understand how to resolve the issue, and what is the approximate cost of the repair.
The best way to get Dishwasher Repair and Service at a fair price and flawless quality is to contact us! Precise and skilled specialists from the Home Appliances Service Center can resolve any troubles whenever you need them. We are always available for you, just call us or place your order online! Our caring specialists will do all the rest in the maximum comfortable way for you!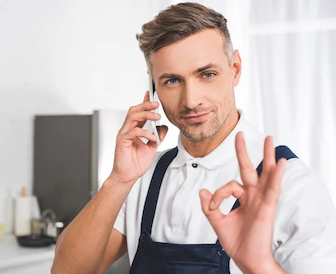 Main Reason to Choose Us
We've been repairing household appliances since 2001. Our experience is your guarantee of quality. We are ready to come to you on the same day and inexpensively carry out high-quality repairs. We use only original spare parts!

Labor Guaranteed
We provide a 90-day warranty on every repair for every client.

Same Day Service
We carry out repairs on the same day you call us in 95% of cases.

Licence & Insured
Each repairman who works for us has a license and insurance.
Choose the brand of your Dishwasher
We repair all popular models of residential appliances from major brands. Find your Dishwasher brand in the list below and click on it for helpful information. Call us or fill out the feedback form, and our repairman will come to you on the same day. Rely on us and we will prove that we are real professionals!