LG Dishwasher Repair
But even for such reliable equipment as LG, problems can arise once, and their solution is desirable as soon as possible. Your local Home Appliance Service Center is ideal, as we can provide you with reliable LG Dishwasher Repair in San Diego County in a short time, at an affordable price, and with a long-term guarantee of the quality of our work.
We work with all models of LG dishwashers, as after 20 years of dealing with LG Dishwasher Repair and Service of any difficulty, our technicians refined their skills to the top level. They know anything about these appliances, so you may be sure that by calling us for a consultation, you will get an answer to all your questions. 
Our LG Dishwasher Repair technician can also find the reason for your dishwasher malfunctioning while remote diagnostics! That is a great way to save time, clarify the condition of your appliance, the approximate cost of work and decide the future actions for its repair. 
Our prices are always affordable, even when you order an urgent arrival of the LG Dishwasher Repair and Service specialist during non-working periods, which has a slightly higher rate. Most common cases are usually resolved within a day when you apply.
There are many different reasons to make people need an LG Dishwasher Repair. Most frequent:
Spoiled electricity (wiring or plug), water or detergent supply;

Leakage of water or foam out of the appliance;

Body parts, surfaces, doors cracked;

Worn gasket or latch so the door cannot be closed properly;

Slide arm harmed, so it cannot roll out;

Defective water inlet valve, so your dishwasher won't fill with water, or it won't stop filling;

Troubles with a timer, so the wash cycle stops without completing, doesn't stop at all, or takes too long;

Blocked spray arm, pipes, hose, filters, or sump strainer;

The body heats too much while the appliance is on;

Dishes remain dirty or wet;

A need for replacement of handles, knobs, buttons, cutlery basket, leveling feet, hose, filters, holder, etc.
Our LG Dishwasher Repair and Services technician can fix all of these breakdowns and more. 
With original spare details and professional tools we use, and the exceptional level of proficiency of every one of our LG Dishwasher Repair specialists, we never doubt when promising you precise and tidy work of the highest quality. 
Home Appliance Service Center is a professional service center with 20 years of successful experience. Many of our customers have already made sure of that, so now they apply only to our company and recommend others to do the same. You can easily get the most reliable LG Dishwasher Repair and Service wasting no extra time, money, or nerves by just contacting us!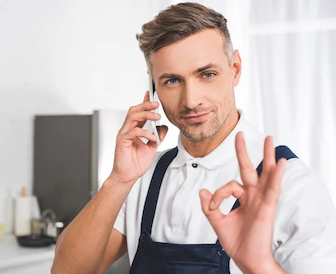 Main Reason to Choose Us
We've been repairing household appliances since 2001. Our experience is your guarantee of quality. We are ready to come to you on the same day and inexpensively carry out high-quality repairs. We use only original spare parts!

Labor Guaranteed
We provide a 90-day warranty on every repair for every client.

Same Day Service
We carry out repairs on the same day you call us in 95% of cases.

Licence & Insured
Each repairman who works for us has a license and insurance.
Choose the brand of your Refrigerator
We repair all popular models of residential appliances from major brands. Find your Refrigerator brand in the list below and click on it for helpful information. Call us or fill out the feedback form, and our repairman will come to you on the same day. Rely on us and we will prove that we are real professionals!