Amana Dishwasher Repair
A dishwasher breakdown is a serious blow to the comfort of the owner. You must wash the dishes yourself until someone fixes the household appliance. Luckily, you won't have to wait long, as the Home Appliance Service Center is right next to you. Take advantage of Amana Dishwasher Repair in San Diego County service and get help from experienced professionals. The high level of our specialists is confirmed by a certificate and a license. In addition, all our employees are insured.
Our company was founded in 2001 and we have extensive experience in dealing with household appliances from different manufacturers. Amana is no exception. Our experts know how to work with all models of dishwashers from this manufacturer, namely Amana Dishwasher Repair and Service. Repairmen know what popular breakdowns happen and how to find a way out of these situations.
Repair with a warranty – a guarantee of your peace of mind
We know what concerns many people have, especially if they are using the services of a particular Amana Dishwasher Repair company for the first time. "What if the repairman makes a mistake and does the job incorrectly?" Don't worry. 
Every customer who uses our Amana Dishwasher Repair and Service receives a 90-day warranty. After our specialist has completed the work, we remain in touch with you and are ready to help you any day. You can call us if you have any questions. You can contact us for help if the breakdown occurs again within 90 days. 
However, such a scenario is unlikely. Why? We'll tell you.
Firstly, of course, we are confident in the high quality of our Amana Dishwasher Repair, because we employ experienced professionals. Their skills are the key to a successful repair. 
Secondly, we use only original spare parts that have a long service life. It's impossible that we changed a spare part, and after a few weeks it broke down, and you were again left without your household appliances.
You can make sure that we provide the highest level of Amana Dishwasher Repair and Services by reading reviews about our company on Google or Yelp. There you will find comments from clients who have already turned to us for help and experienced all our advantages in practice. 
You will certainly become another client who is ready to recommend us to friends, relatives and just strangers on the Internet.
Causes of problems with Amana dishwashers
Sometimes the cause of a breakdown is the wear of a part or a manufacturing defect. But that doesn't always happen.
Sometimes dishwashers don't work properly for less serious reasons, and some of them you can even fix yourself.
Washing dishes that have leftover food on them. By making such a mistake, you quickly clog the filter. In addition, it is difficult for the dishwasher to completely wash such dishes.

Incorrect loading of dishes. For example, many manufacturers recommend placing plates and mugs at the very top. You can find information about your dishwasher model in the instructions. Start following the rules and the equipment will work correctly.

Incorrect installation of the household appliance. If you don't have experience in carrying out such work, entrust it to a professional, otherwise trouble will arise.

Socket is out of order. Because of this, for example, the dishwasher may spontaneously turn off or not turn on at all.
If you notice that your dishwasher is not working properly, use the Amana Dishwasher Repair.
Our specialist will quickly find the cause of the breakdown and eliminate it. To use Amana Dishwasher Repair and Service, call Home Appliance Service Center or fill out the feedback form.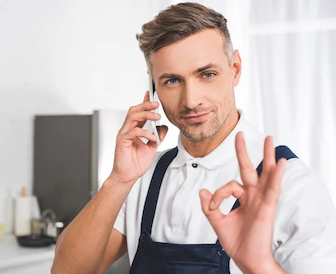 Main Reason to Choose Us
We've been repairing household appliances since 2001. Our experience is your guarantee of quality. We are ready to come to you on the same day and inexpensively carry out high-quality repairs. We use only original spare parts!

Labor Guaranteed
We provide a 90-day warranty on every repair for every client.

Same Day Service
We carry out repairs on the same day you call us in 95% of cases.

Licence & Insured
Each repairman who works for us has a license and insurance.
Choose the brand of your Refrigerator
We repair all popular models of residential appliances from major brands. Find your Refrigerator brand in the list below and click on it for helpful information. Call us or fill out the feedback form, and our repairman will come to you on the same day. Rely on us and we will prove that we are real professionals!