Fisher & Paykel Dishwasher Repair
Which specialist would you prefer: someone who knows how to repair dishwashers in general or someone who has extensive experience in repairing household appliances ? Home Appliance Service Center started its work in 2001. For over 20 years, we have repaired a wide variety of Fisher&Paykel dishwashers. Our experts know all the features of this household appliance, they know how to fix even the most complex breakdowns. Every customer who uses Fisher&Paykel Dishwasher Repair in San Diego County receives a 90-day warranty.
How we do repair
At the beginning of the work, our specialist conducts a thorough diagnosis. He uses modern equipment, which, coupled with the huge experience of Fisher&Paykel Dishwasher Repair and Service, allows us to find the cause of the breakdown quickly and easily
After that, the specialist proceeds directly to the Fisher&Paykel Dishwasher Repair itself. If the part that failed can be repaired, the repairman will quickly do it. If this part is hopeless, the specialist will install a new one. 
Important point! We use only original spare parts that have a long Fisher&Paykel Dishwasher Repair and Service life. 
If you order Fisher&Paykel Dishwasher Repair you will be protected from fakes and low-quality parts. Our specialists are well versed in the range of such things and know what is best to choose.
After completion of work, the household appliance is tested. The task of our repairman is to make sure that the dishwasher is repaired with high quality and will not cause problems in the future. Only if the specialist is 100% sure, he returns the household appliance to the owner.
You can trust our experts because they are the best of the best. 
Home Appliance Service Center employees attend trainings at manufacturers' factories, where they improve their skills, gain valuable theoretical knowledge and experience. Not every company can boast of such a responsible approach.
Do you have questions about our company or a specific Fisher&Paykel Dishwasher Repair and Services? Call us any day. Home Appliance Service Center is open seven days a week. Our specialist will answer all your questions, no matter how many of these questions may be.
About common breakdowns of Fisher&Paykel dishwashers
Sometimes these household appliances break down due to long-term operation (no matter how reliable the parts are, they wear out over time). Sometimes the dishwasher breaks down due to human error: for example, if you often wash dishes that have food leftovers on them. 
Depending on the cause of the breakdown, the "symptoms'' differ. Here are the most common problems that customers who use Fisher&Paykel Dishwasher Repair complain about:
The dishwasher heats the water too much (or doesn't heat the water well enough).

Strange noise occurs during operation.

The dishwasher doesn't wash dishes well.

Water after completion of work is not drained into the sewer.

Control buttons don't work.

The dishwasher doesn't turn on.
Don't try to solve the problem yourself. Use our Fisher&Paykel Dishwasher Repair and Service by calling the phone number listed on the website. We are sure that you will see positive feedback there, as we make every effort to ensure that each client remains satisfied with the Home Appliance Service Center and quality of the repair.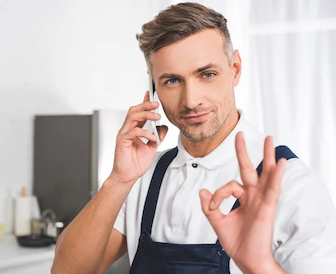 Main Reason to Choose Us
We've been repairing household appliances since 2001. Our experience is your guarantee of quality. We are ready to come to you on the same day and inexpensively carry out high-quality repairs. We use only original spare parts!

Labor Guaranteed
We provide a 90-day warranty on every repair for every client.

Same Day Service
We carry out repairs on the same day you call us in 95% of cases.

Licence & Insured
Each repairman who works for us has a license and insurance.
Choose the brand of your Refrigerator
We repair all popular models of residential appliances from major brands. Find your Refrigerator brand in the list below and click on it for helpful information. Call us or fill out the feedback form, and our repairman will come to you on the same day. Rely on us and we will prove that we are real professionals!