Maytag Dishwasher Repair
When your Maytag dishwasher got broken and you cannot get a free guarantee repair, you may want to find another solution, not worse in quality, but more pleasant in price and time of completion. Finding it may sound difficult, but don't worry, as Home Appliance Service Center can provide you with the best Maytag Dishwasher Repair in San Diego County in the way it is the most comfortable for you.
With us, you do not need to wait long to apply, to get a technician, and get the work done. We are always close and ready to deal with any trouble you have got on the same day you call us! 
At any time, on any day, our technicians are ready to use all their mastership and responsibility to make sure you get all needed services and a reliable Maytag Dishwasher Repair and Service the way you want with the most friendly and careful attitude. 
Before our Maytag Dishwasher Repair specialist comes to you, you can ask for consultation or diagnostics to understand what and why happened, how much would it cost to fix this problem, and if the visit of the technician is needed at all. Do not worry if your dishwasher is rare or old, as we work with any Maytag models, facing no obstacles.
We have been working long enough to receive a vast experience, refine skills to a perfect level and to get tons of satisfied clients, who prove all our good words, as they apply us again when needed and advise our company to friends and neighbors. 
As for us, this is the most reliable sign of the company to be providing customers with services of good quality and with the best conditions. One of them is the most affordable price, adjustable to any wallet. Our craftsmen at Maytag Dishwasher Repair and Service can be trusted. 
There are many troubles we have faced and solved when we were completing orders for Maytag Dishwasher Repair. Here are some of them, so you can check if you notice something similar:
The appliance cannot be turned on or off;

The washing process takes too long, doesn't stop at all, or stops before it should;

Water does not come into the tub, or goes there nonstop;

Water or detergent isn't supplied properly;

Dishes and cutlery remain dirty, covered with foam, or wet

Foam or water leak outside;

The door doesn't latch or can't be closed properly enough;

It smells, buzzes, vibrates, or heats much while working;

Some visible parts are damaged or lost (handle, buttons, cutlery basket, leveling foot, hose, slide arm, wire, plug, pipes, lights, etc.).
The complexity of the breakdown does not matter either. If the unit is repairable, our Maytag Dishwasher Repair and Services technician is sure to help you. 
Some of these problems may be solved by a simple cleaning of filters, pipes, hoses, spray arms, and sump strainers. But more often, the reason is hidden inside when the motor, pump, thermostat, or heater element is out of order. In any case, our staff is qualified enough to detect the reason for malfunction in no time and pick up the best way of making things back to normal. 
Besides the fluency and proficiency of the Maytag Dishwasher Repair technicians, their special tools, materials, and original spare details help to conduct all the needed work even more quickly and accurately.
Home Appliance Service Center is a professional service center with 20 years of successful experience. If you still have doubts - feel free to contact us anytime and we will help you with anything related to your appliance. Each Maytag Dishwasher Repair and Service we provide with a long-term guarantee, so you can be sure that we are in charge of everything done!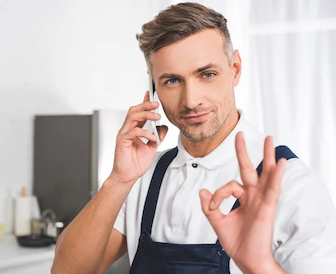 Main Reason to Choose Us
We've been repairing household appliances since 2001. Our experience is your guarantee of quality. We are ready to come to you on the same day and inexpensively carry out high-quality repairs. We use only original spare parts!

Labor Guaranteed
We provide a 90-day warranty on every repair for every client.

Same Day Service
We carry out repairs on the same day you call us in 95% of cases.

Licence & Insured
Each repairman who works for us has a license and insurance.
Choose the brand of your Refrigerator
We repair all popular models of residential appliances from major brands. Find your Refrigerator brand in the list below and click on it for helpful information. Call us or fill out the feedback form, and our repairman will come to you on the same day. Rely on us and we will prove that we are real professionals!