Microwave Repair Service
The microwave is one of the smallest appliances, which does not make it less useful than the bigger ones. It greatly saves time and effort at home, school, work, or somewhere else. Even kids can easily heat or cook some food with the help of a microwave. But it may still happen that one day it stops heating, or some of its mechanisms fail. You do not need to worry about this as you can apply to the Home Appliances Service Center. We are available 24/7 and always ready to provide you with the best Microwave Repair in San Diego County. We deal with any tasks at the fairest price and in the shortest terms.
Why may you need to call a repairer to care for your microwave?
You cannot turn it on or off.

It started heating worse, unevenly, slower or stopped heating at all.

The heating does not start or stop, or it shuts off mid-way.

Touchpads, knobs, or buttons have a poor connection, function wrong, or are lost.

The appliance vibrates or buzzes too loudly.

It is sparkling, arcing, or producing electrical odor or smoke.

The control panel is not working, the screen shows an error or nothing at all.

The door cannot latch and has cracked glass or deformed hinges, latches, locks, springs, joints, or switches.

The heating tan or air vent is spoiled or dirty.

It has troubles with the electricity supply.

The inner bulb or outer indicator is going on and off or not working.

Wires, isolation, plugs, couplers, turntable rings, or rack mounts are old or defective.

The roller ring does not rotate.

The drive motor, thermal fuse, diode, high voltage capacitor or transformer, cooling fan, thermal protector, main control board, magnetron, or waveguide is out of order.
There is no doubt that you wish to solve it all as quickly as possible, with less stress and expenses. Our company always cares about finishing all orders for Microwave Repair and Service on the same day when we get your application. For emergencies, just apply to us at any moment, including after-hours and days off. We will arrange the departure of the specialist to your address within 15 minutes for a little higher price.
 Before setting the time of arrival of our technician, you may want to clarify some details. It is always a good idea to get a free consultation or remote diagnostics from our highly qualified specialists. It helps to understand the complexity of your case, count an approximate cost of Microwave Repair, or indicate if your appliance is repairable at all. 
If we detect the repair not to be cost-effective or recommended for other reasons, we will inform you. We can also help to choose a replacement according to your budget and requirements. We are always honest about the condition of your appliance and what you pay for. And we do not have hidden fees and never conduct work that is senseless. Our prices for all Microwave Repair are fair and affordable, which often becomes a pleasant surprise for our customers.
Our specialists have a full set of needed features to make any Microwave Repair and Service perfect:

Outstanding skills, knowledge, and proficiency, which we are developing constantly.

Licenses for working with the latest and premium-level items, both commercial and private ones.

Experience in dealing with

Microwave Repair

for various types of appliances. We can easily deal with all models of all brands of microwaves, regardless of how old or rare they are.

Professional tools, equipment, materials, and perfectly fitting spare details from the best manufacturers.

The most caring and responsible approach to each appliance. We back up all

Microwave Repair and Services,

with a long-term warranty.

Friendly personal attitude, neat and tidy conduction of all work. We do not leave any dust or rubbish in your house when we finish.
Our company has over 20 years of tireless everyday work, making clients glad, and caring for numerous appliances. Thus, we can surely claim that our company provides every customer with the best Microwave Repair and Service. Thousands of happy clients of Home Appliances Service Center confidently prove it! They leave many positive comments on Google and recommend our company to other people. If you want to apply to a reliable service provider, just call us or place an online application! You will get your appliance fixed quickly, at a fair price, and at the highest quality level!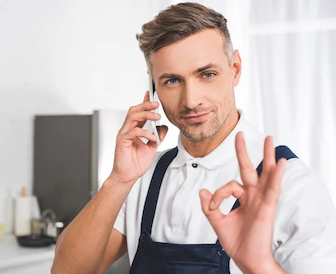 Main Reason to Choose Us
We've been repairing household appliances since 2001. Our experience is your guarantee of quality. We are ready to come to you on the same day and inexpensively carry out high-quality repairs. We use only original spare parts!

Labor Guaranteed
We provide a 90-day warranty on every repair for every client.

Same Day Service
We carry out repairs on the same day you call us in 95% of cases.

Licence & Insured
Each repairman who works for us has a license and insurance.
Choose the brand of your Microwave
We repair all popular models of residential appliances from major brands. Find your Microwave brand in the list below and click on it for helpful information. Call us or fill out the feedback form, and our repairman will come to you on the same day. Rely on us and we will prove that we are real professionals!