LG Microwave Repair
With frequent use, a microwave oven can suffer from internal shocks, grease and crumbs, power surges and many other reasons, so sooner or later you will probably notice that it works worse, if not at all. The soonest and most effective way to resolve it is to apply to the Home Appliance Service Center. For over 20 years we have been dealing with all types and models of these items, including the rarest and oldest ones, so we can easily provide you with the top-quality LG Microwave Repair in San Diego County!
People often do not pay attention to minor malfunctions, but this mistake leads to a worsening of the situation, so we strongly recommend you apply to LG Microwave Repair and Service specialists even when facing the smallest trouble. 
Our company offers consultation and remote diagnostics for free, so you lose nothing by calling us for that, and get a clear understanding of the situation. You will be informed about the reason for breakage, the best solution for it, and the approximate cost of such work if you explain which signs of improper functioning you notice. 
There is a wide range of troubles, which means that applying for LG Microwave Repair is a smart idea:

You cannot turn it on or off;

It started heating worse, slower, unevenly, or stopped heating at all;

It stops mid-way before time goes off;

Knobs or buttons function wrong, have a loose connection to the control board, or are lost;

Information screen shows an error or does not work at all, the control panel or touchpad is faulty;

Light bulb or indicators not working;

Troublesome opening or closing the door, as it has damaged hinges, switches, joints, locks, latches, or glass;

The appliance produces loud sounds, electrical or other unpleasant odor, smoke or is sparking or arcing;

The roller ring does not rotate;

Heating tan or air vent is spoiled or dirty;

Worn off turntable ring, rack-mount, coupler;

Failed diode, magnetron, high voltage capacitor or transformer, thermal fuse, thermo protector, main control board, waveguide, drive motor, cooling fan.
These and other problems will vanish as our LG Microwave Repair and Service technician arrives, as our staff has a great experience, outstanding skills and the deepest knowledge of all details, functional processes and other subtleties of microwaves and always have the most responsible and careful attitude to each item they are working with. 
Using the best professional equipment, tools, materials, and original spare details, we always reach a flawless result of work and back it up with a long-term warranty, so you do not have to worry if some parts will be tottering or squeaking. 
Our clients often note the highest quality and reliability in the numerous positive reviews they leave on the net. As they keep on recommending our services to others, we are sure that they have gained their trust for showing a friendly attitude, responsibility, and the best management for organizing all the needed procedures for providing the soonest LG Microwave Repair in the most satisfying conditions.
Reliability and quality are those things, which are must-haves for each service center, as we believe. And they are not the only benefits of applying to us, as we also care for your time and money. 
We have the most affordable prices, without any hidden fees, and always clearly report what you pay for. Seeing that the repair is not recommended or cost-effective, we let you know as well, as we do not want you to lose time and money on useless service. Our craftsmen at LG Microwave Repair and Services can be trusted. 
There is no restriction on time, as we are available round the clock. Our local department is ready to send the LG Microwave Repair technician to your address 15 minutes after the application is received if you indicate the urgency and pick the option of the earliest possible arrival. It costs slightly more, but then you get assistance at any moment, even if it is late at night or a day off. 
Normal orders are usually resolved within a day, as in any case, we aim to make you have your appliance run like a clock as soon as possible.
Home Appliance Service Center is a professional service center you can trust. It is quick and easy for you to get the best LG Microwave Repair and Service at any needed time! Just call us or place an online application and our team will take care of your appliance and provide you with the best result in the soonest term and at the most favorable price.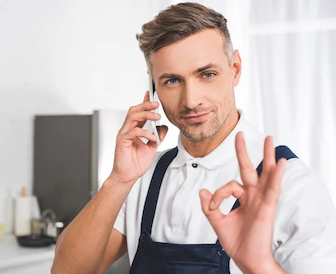 Main Reason to Choose Us
We've been repairing household appliances since 2001. Our experience is your guarantee of quality. We are ready to come to you on the same day and inexpensively carry out high-quality repairs. We use only original spare parts!

Labor Guaranteed
We provide a 90-day warranty on every repair for every client.

Same Day Service
We carry out repairs on the same day you call us in 95% of cases.

Licence & Insured
Each repairman who works for us has a license and insurance.
Choose the brand of your Refrigerator
We repair all popular models of residential appliances from major brands. Find your Refrigerator brand in the list below and click on it for helpful information. Call us or fill out the feedback form, and our repairman will come to you on the same day. Rely on us and we will prove that we are real professionals!