Magic Chef Microwave Repair
Even with such a good device how Magic Chef sticky situations can happen and you may find yourself needing to get your Magic Chef Microwave Repair in San Diego County in the most reliable, fast and cost effective way. This is what Home Appliance Service Center offers, and with over 20 years of experience, we can be sure that we know how to do it perfectly!
Experience means much, especially when we are talking about such services as repair. To make the appliance work properly again, the professional should have knowledge of all possible troubles, which happen to electronics, all the details, their place, and functioning, be up-to-date with all news on the topic, and have the highest level of skills, which are refined more and more daily. That is an exact description of all Magic Chef Microwave Repair and Service technicians in our team! 
Each of them is greatly qualified, responsible, polite, and caring, and we use only top-notch equipment, tools, materials, and original spare details, so when you apply to us for Magic Chef Microwave Repair, you may be sure, that your appliance is in reliable hands and all procedures will be conducted on a top-quality level!
The list of unpleasant things, which may happen to your magical heating box, is pretty wide, and postponing resolving them may lead to more serious issues. so we strongly recommend you to apply to service enter not only if your microwave stopped turning on or heating food, but also if you notice any other unusual signs, for example:
The appliance heats or buzzes too much;

You notice electrical or burn smell, smoke, sparkling, or arcing;

The heating process stops before it is complete, goes slower, uneven, or less powerful than it should;

Knobs, buttons, or touchpad malfunctioning, are lost or broken, or have a bad connection to the control board;

Information screen does not work or shows an error;

The doors have broken glass, worn-out gaskets, hinges, joints, springs, damaged locks, switches, or latches;

Light bulbs or indicators are blinking or not shining at all;

Old or damaged turntable ring, rack-mount, coupler, wires, isolation, or plug;

Heating tan or air vent obstructed with dirt, dust, or debris, or are damaged;

High voltage transformer or capacitor, magnetron, diode, thermo protector, cooling fan, thermal fuse, waveguide, drive motor, or main control board out of order.
Facing any of that or other signs with any model of Magic Chef microwave, you may be sure that we will find an effective way to make it back to normal, even if your item is too old or unique. 
Still, it sometimes happens, that the Magic Chef Microwave Repair and Service is not cost-effective for your unit due to the price for some details (when the needed spare parts cost over 50% of the cost of a new appliance), and in that case, we will inform you that it is not recommended to fix it. 
We are always honest with you and do not want you to waste money in vain. And the rates we set for our services are always the fairest and most favorable. Plus, you can easily find out the price of the work beforehand! Just call us for a diagnostic or consultation and after a talk with our Magic Microwave Repair specialist, you will know the approximate cost, the plan of the repair, and what actually made your microwave fail or malfunction.
You can pick up any suitable time when you want the Magic Microwave Repair and Services technician to come to your house. Usually, we resolve all breakages within a day, unless you pick another time. 
As we have a local department in San Diego always available, we can also offer a flash-speed option, which means the departure of the technician in 15 minutes after your call, even during days off or non-working hours, which costs just a little more.
We always aim to provide all the needed procedures to you in the most comfortable conditions, and besides quality, price, and speed, we also care for your calmness about the condition of your microwave after our work, which is why we always back it up with a long-term guarantee. 
Still, we do not doubt the quality of provided work, as our Magic Microwave Repair team treats each task with incredible responsibility, which made us successfully withstand a competition since 2001, and get numerous happy clients, who recommend us to friends and leave 5-star reviews on Google, as they are fully satisfied for what and how we have done for them.
Home Appliance Service Center is a professional service center with 20 years of successful experience. If you want to get Magic Chef Microwave Repair and Service in the same comfortable conditions we described, or have your own wishes, feel free to contact us by phone or online application on our webpage. Our team is always ready to arrange everything in the quickest way, the soonest term, and at an affordable price in the most stressless way for you!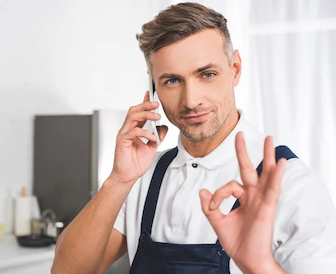 Main Reason to Choose Us
We've been repairing household appliances since 2001. Our experience is your guarantee of quality. We are ready to come to you on the same day and inexpensively carry out high-quality repairs. We use only original spare parts!

Labor Guaranteed
We provide a 90-day warranty on every repair for every client.

Same Day Service
We carry out repairs on the same day you call us in 95% of cases.

Licence & Insured
Each repairman who works for us has a license and insurance.
Choose the brand of your Refrigerator
We repair all popular models of residential appliances from major brands. Find your Refrigerator brand in the list below and click on it for helpful information. Call us or fill out the feedback form, and our repairman will come to you on the same day. Rely on us and we will prove that we are real professionals!