Whirlpool Microwave Repair
It is a pretty smart decision to get a microwave from a reliable manufacturer, as this unit is used frequently, and has a huge impact on our daily schedule, saving much time and providing us with warm food quickly. Thus, when it fails, you probably want to make things back to normal as soon as possible, and to get it in the quickest way and at the most favorable price just apply to Home Appliance Service Center! For over 20 years so far we have been providing all clients with the most reliable Whirlpool Microwave Repair in San Diego County in the most comfortable conditions!
Claiming any self-appraisals is easy, but it means nothing without real proof. Our company is a reliable service provider not by empty words, but by years of hard work and successfully withstanding competition with numerous service centers around, due to the highest level of the qualification and professionalism of our Whirlpool Microwave Repair and Service specialist. 
We have fixed tons of appliances, making a large number of their owners glad for picking us, and they often show this opinion in numerous 5-star reviews, and while recommending us to others as well.
We have many benefits, which make our customers satisfied, starting with the most polite and friendly Whirlpool Microwave Repair team, and finishing with an honest and clear attitude and flawless result of work. 
There is no chance that we overcharge or hide any fees, as we care for having your trust, so you always know what you pay for and the cost of work is affordable. Plus, we offer free services, like a consultation or remote diagnostics, which are extremely useful and time-saving!
By calling us as soon as you notice your microwave running worse and explaining what exactly makes you worry, you get an answer from our technician, who tells you the reason for the breakage, how it should be resolved, and what is the approximate cost of such work. There are many reasons to ask for advice or apply for Whirlpool Microwave Repair and Service, and the most common of them are:
Roubles with doors (cracked glass, worn-off seals, deformed or broken hinges, springs, joints, switches, latches, or locks);

Troubles with the turntable (it is not rotating, its ring is warped or torn);

Troubles with the control board (the screen is off or shows an error; the buttons, knobs, or touchpad not responding, lost or broken; loose connection);

Troubles while heating food (no heat is produced, it is on too low or too high level, heating takes too long, the food is not heated evenly, the heating cycle does not stop when it should or stops mid-way);

Maintenance issues (clogged or dirty heating tan or air vent; old or damaged rack-mount, coupler, wires, or isolation needs a replacement);

Troubles with hardware (drive motor, cooling fan, waveguide, diode, magnetron, high voltage capacitor or transformer, thermal fuse, or thermal protector out of order);

Troubles with lights (interior or exterior bulbs or indicators are blinking or burned out);

Impossibility to turn the microwave on or off;

Loud vibrating, buzzing, or other unusual sounds;

Electrical or burning odor or smoke;

Sparks or arks inside the cavity.
With the deepest knowledge, outstanding skills, endless responsibility of our Whirlpool Microwave Repair technicians, and help of the best-selected equipment, materials, tools, and perfectly fitting spare parts, any of these unpleasant things will vanish in no time, regardless of the model of your microwave, its year of issue and uniqueness. 
We stand for the highest quality of any Whirlpool Microwave Repair and Services we conduct, so always back up all our work with a long-term guarantee.
Depending on your requirements, we aim to spend a minimum time completing the order, and in the absolute majority of cases, we finish it on the same day when we receive the application. 
When your case cannot wait even a couple of hours, or you need it to be resolved urgently during non-working hours or days off, just pick our additional option for a small extra fee. And the Whirlpool Microwave Repair and Service specialist will depart to your address in 15 minutes after your call from our closest local department.
Home Appliance Service Center is a professional service center with 20 years of successful experience! We are capable of providing you with a top-level Whirlpool Microwave Repair and Service in any suitable moment and at the most affordable price. You only need to contact us in any convenient way, and we will make your appliance running like a clock again!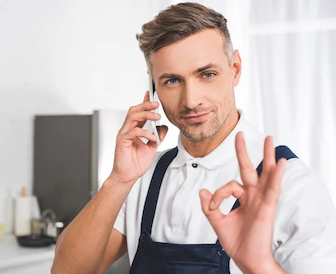 Main Reason to Choose Us
We've been repairing household appliances since 2001. Our experience is your guarantee of quality. We are ready to come to you on the same day and inexpensively carry out high-quality repairs. We use only original spare parts!

Labor Guaranteed
We provide a 90-day warranty on every repair for every client.

Same Day Service
We carry out repairs on the same day you call us in 95% of cases.

Licence & Insured
Each repairman who works for us has a license and insurance.
Choose the brand of your Refrigerator
We repair all popular models of residential appliances from major brands. Find your Refrigerator brand in the list below and click on it for helpful information. Call us or fill out the feedback form, and our repairman will come to you on the same day. Rely on us and we will prove that we are real professionals!