Samsung Microwave Repair
The Samsung company has a great reputation. But if your Samsung microwave fails in a year and the customer care reacts not the way you expect, the situation may get really stressful. We want to make it more comfortable for you and have a great solution, as Home Appliance Service Center deals with all types of Samsung Microwave Repair in San Diego County in the best way: quickly, at a fair price, and the highest quality level!
With a failed microwave, it is really needed to make it back to normal sooner, as no one wants to lose its time-saving benefits for long. By applying to us, this is not an issue, as we always aim to complete your order on the same day when you inform us about such a need. 
And if you want to get it resolved even sooner or during the non-working period, we are still available! Our local department is open round the clock, and we offer the departure of the Samsung Microwave Repair and Service technician urgently on days off or late nights too, which costs just slightly more than usual.
You may also want to clarify some information or ask for advice from a qualified person. We offer free consultation and diagnosis, which are useful for getting information about proper maintenance of your microwave. 
Our Samsung Microwave Repair specialists will tell you how to avoid some of the trouble, or if trouble has already happened, what exactly could be wrong with it, how to fix it, and what the approximate cost of such work is.
Our prices are always affordable, and we clearly inform you what you pay for. Sure, from time to time it happens that we indicate that the repair is not recommended, as the appliance is in too bad conditions, or needed parts are too expensive, so more rational and cost-effective is to get a new item instead. In that case, our Samsung Microwave Repair and Service technicians always honestly inform the owner about it.
Mostly, when people apply to us for Samsung Microwave Repair, they face some of the next troubles:
The roller ring does not turn;

The appliance does not heat, does it too weak, too slow, or unevenly;

It stops mid-way, or goes on heating when the timer went off;

Loud vibrations, buzzing, or other sounds;

Sparkling, arcing, smoke, electrical or burning odor;

The screen shows an error, touchpad or buttons not reacting, any of them or the whole control board have a bad connection, are spoiled or not working at all;

Exterior light indicators or interior lamps not shining or going on and off;

The electricity supply is disrupted due to worn-off wires or plugs;

The door cannot be normally closed, opened, or latched, as has damaged or cracked hinges, springs, gasket, joints, latches, locks, or glass;

The appliance cannot be turned on or off;

The cooking cavity, heating tan, or air vent are obstructed with pieces of food, debris, or dust;

Rack-mount, coupler, turntable ring, or other parts worn off or spoiled;

The cooling fan, thermo protector, thermal fuse, waveguide, magnetron, diode, drive motor, high voltage capacitor or transformer, or main control board is out of order, so needs to be fixed or replaced.
Our Samsung Microwave Repair and Services technicians have been successfully solving these and other problems in microwave ovens of all models, including the oldest and rarest, for over 20 years. 
All this time our team has been gaining precious experience, sharpening skills to the perfect level, and broadening the knowledge about all details, functioning, and other subtleties of microwaves, and keeps on doing it. 
Thus, we never hesitate in the best quality and irreproachable responsibility of Samsung Appliances Repair, done by us, and confidently back it up with a long-term guarantee. The use of the best-selected equipment, tools, details, and original spare details, also have their role in reaching the most precise result, so we always aim to make your appliance perform like a brand new one again.
The best estimation of our activity is what our customers say. They have posted numerous 5-star reviews and positive comments on the net and often recommend us to friends and other people, what is the best appraisal and motivation for us!
To get the friendliest attitude, the soonest feedback, and the most responsible organization of needed Samsung Microwave Repair and Service, the best prices, and flawless quality of work, provided with a warranty, you only need to call us or place an online application. Home Appliance Service Center will take care of that all in the most comfortable way for you!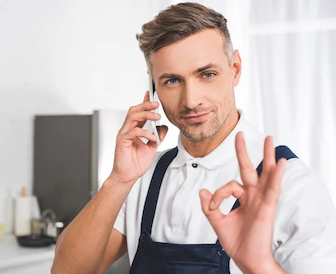 Main Reason to Choose Us
We've been repairing household appliances since 2001. Our experience is your guarantee of quality. We are ready to come to you on the same day and inexpensively carry out high-quality repairs. We use only original spare parts!

Labor Guaranteed
We provide a 90-day warranty on every repair for every client.

Same Day Service
We carry out repairs on the same day you call us in 95% of cases.

Licence & Insured
Each repairman who works for us has a license and insurance.
Choose the brand of your Refrigerator
We repair all popular models of residential appliances from major brands. Find your Refrigerator brand in the list below and click on it for helpful information. Call us or fill out the feedback form, and our repairman will come to you on the same day. Rely on us and we will prove that we are real professionals!