GE Microwave Repair
Even the most reliable household appliances break down over time, because nothing lasts forever. Therefore, we recommend that you save the phone number of our company and contact us for help with any problem with the equipment. Home Appliance Service Center specialists are well versed in microwave ovens. We have encountered models from General Electric many times and have always solved the problems of our customers. Every technician who performs GE Microwave Repair in San Diego County is licensed, certified, insured.
The main factor that allows us to provide really high-quality services is the experience of our specialists. They have been repairing household appliances for over 20 years. At GE Microwave Repair and Service, we aim to be the best of the best in the business. To do this, they regularly develop their skills, take on complex tasks with pleasure and gain valuable theoretical knowledge. 
One example: employees of our company attend training that are held at the factories of manufacturers of household appliances. These companies are interested in having as many real professionals as possible who can effectively repair their products. There's no breakdown that our GE Microwave Repair specialists can't fix.
For more than 20 years, our company has earned an excellent reputation. Our GE Microwave Repair and Service technicians value their name. We managed to do this thanks to an individual approach, high speed of work and, of course, the highest quality repair. You can find out what customers think of us by reading reviews on Google or Yelp.
Common breakdowns of GE microwave ovens
Below we list the breakdowns that people who order GE Microwave Repair most often contact us with. Perhaps you will find your breakdown in this list. However, be aware that these are far from all the malfunctions that our specialists can fix. We carry out Repair of any complexity and can return the microwave to life, even if there is a serious breakdown.
What problems most often come to our service center.
The microwave plate doesn't rotate or rotates with pauses.

It takes much longer to heat food than before.

Microwave doesn't turn on even though you have connected it to the socket and pressed the correct buttons.

The backlight doesn't work.

Any button or display doesn't work.

While the microwave is running, the kitchen smells of burnt plastic (in this case, immediately turn off the appliance and order

GE Microwave Repair and Services

, as professional help is indispensable in this case).

The appliance is making strange noises that you haven't heard before.

The microwave has been damaged by being dropped or hit.

Microwave oven doors don't work properly.
No matter what kind of damage occurs, entrust the repair to professionals. No need to disassemble the microwave and try to solve the problem yourself. Believe us, you will save more time and money if you immediately contact the experts. Regardless of the type of damage, trust the professionals at GE Microwave Repair.
What to do if your microwave is broken?
To order GE Microwave Repair and Service, you need to follow a few simple steps. Find a phone number on our website and call us. If you would like us to contact you, leave your details in the feedback form. Wait for a call from our manager. A specialist will come, diagnose and repair, after which you will receive a 90-day warranty. Home Appliance Service Center responsibly fulfills its warranty obligations and, in case of questions or problems, does everything to help the client.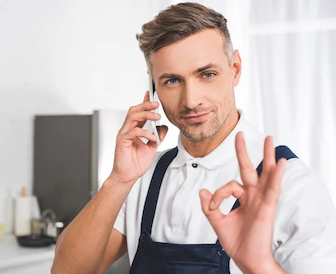 Main Reason to Choose Us
We've been repairing household appliances since 2001. Our experience is your guarantee of quality. We are ready to come to you on the same day and inexpensively carry out high-quality repairs. We use only original spare parts!

Labor Guaranteed
We provide a 90-day warranty on every repair for every client.

Same Day Service
We carry out repairs on the same day you call us in 95% of cases.

Licence & Insured
Each repairman who works for us has a license and insurance.
Choose the brand of your Refrigerator
We repair all popular models of residential appliances from major brands. Find your Refrigerator brand in the list below and click on it for helpful information. Call us or fill out the feedback form, and our repairman will come to you on the same day. Rely on us and we will prove that we are real professionals!