Thermador Microwave Repair
Ones by Thermador take their decent place in some top lists for versatility and power, but even a great quality of the appliance does not mean that you will never face any troubles while using it. To get the fairest prices, quick feedback, and reliable Thermador Microwave Repair in San Diego County you can just apply to Home Appliance Service Center, and receive the best solution in the most suitable conditions for you!
Our company has the most qualified team, client focus, and perfectly customized management, which helps us to withstand the competition for over 20 years so far and gain a vast amount of customers, who are satisfied with our work, recommend us to friends, and leave excellent reviews. 
These factors are the most significant indicators of the quality and reliability of the service center, and motivate us to go on developing and become even better every day. Our Thermador Microwave Repair and Service technicians know how to fix any breakdown reliably and efficiently!
We have resolved multiple breakages of different complexity for all possible models of microwaves, regardless of how old or rare they are. The main reason why we have coped with them all is the professionalism of our staff! Each of our Thermador Microwave Repair technicians has amazing skills, deep knowledge of all details and subtleties of these appliances, and the most responsible attitude to every case. 
Another helping point is the best equipment, tools, materials, and original spare details, which ensure the perfect fitting, smooth functioning without tottering or squeaking, and a longer life for your item. And, what goes without saying, we back up all work with a long-term guarantee.
It is not easy to figure out what is exactly wrong with your microwave unless you have a needed experience and skills, so we always recommend not digging inside the appliance yourself, as it may be dangerous both for you and the very appliance. Instead of that, you should call the specialists in case you notice even the smallest signs of malfunctioning. 
There are many reasons to apply for Thermador Microwave Repair and Service, and the most common of them are:
You cannot turn your item on or off;

The microwave has its drive motor, high voltage transformer or capacitor, diode, thermal fuse, thermo protector, waveguide, magnetron, cooling fan, or main control module out of order;

The door cannot be closed or opened properly;

Worn-off, damaged, or old buttons, knobs, turntable ring, coupler, rack-mount, seals, door glass, hinges, joints, latches, locks, or switches;

While the microwave is on, you hear it buzzing, vibrating, notice a burning or electrical odor, smoke, sparkles, or arcs;

The appliance is not heating at all, does it too slow, too much or not enough, uneven, or stops in few seconds after start;

The roller ring does not turn;

The screen shows an error or does not work at all, touchpad, buttons, or other control parts malfunction or have a poor connection;

Light indicators or bulbs not shining or are blinking;

Heating tan or air vent is spoiled or covered with grease and dust;

The electricity supply is unstable or disrupted, as cords or plugs are worn off.
Naming to our worker, what troubles do you notice with your microwave, you will soon hear the answer to the questions "What causes it to work wrong?", "How to fix it?", and "How much will it cost?". Plus, we conduct consultation and remote diagnosis for free and these useful features may help you with planning the Thermador Microwave Repair and the most suitable time for it. 
We are not limited to the last point, as our local department is open round the clock, so you can pick up any needed moment. If you want the Thermador Microwave Repair and Services technician to arrive as soon as possible during non-working hours or on a day off, we can arrange it for a small additional payment. 
Normal cases are resolved within a day in over 95 percent of cases, which is quick too! Rarely but it happens that we conclude that the repair is not cost-effective or recommended due to the condition of the unit, or the cost of the needed parts, and in that case we honestly inform you. 
A Thermador Microwave Repair technician is always clear about all the steps of the job and what you are paying for. Because we want to give you the best result, but not waste your time and money.
Home Appliance Service Center is a professional service center you can trust! When you need advice or Thermador Microwave Repair and Service and you want to get it in the most comfortable conditions, we are always available for you! Just call us or fill in the contact form on our webpage, and we will make your microwave run like a clock quickly, at an affordable price, and in the best quality!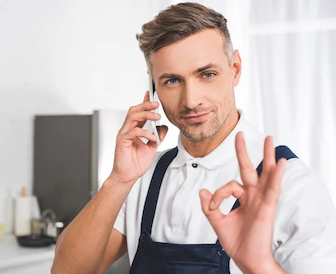 Main Reason to Choose Us
We've been repairing household appliances since 2001. Our experience is your guarantee of quality. We are ready to come to you on the same day and inexpensively carry out high-quality repairs. We use only original spare parts!

Labor Guaranteed
We provide a 90-day warranty on every repair for every client.

Same Day Service
We carry out repairs on the same day you call us in 95% of cases.

Licence & Insured
Each repairman who works for us has a license and insurance.
Choose the brand of your Refrigerator
We repair all popular models of residential appliances from major brands. Find your Refrigerator brand in the list below and click on it for helpful information. Call us or fill out the feedback form, and our repairman will come to you on the same day. Rely on us and we will prove that we are real professionals!