Jenn-Air Microwave Repair
As soon as you notice that your microwave is malfunctioning, call the Home Appliance Service Center right away and order Jenn-Air Microwave Repair in San Diego County. Our staff will do everything necessary to ensure that your household appliance starts working normally again as soon as possible.
Some microwave owners make the same mistake: they see that their household appliance is not working correctly but continue to use it as if nothing had happened. What can be the result of such thoughtless behavior? At best, the breakdown will progress over time and cause serious damage to the equipment. In the worst case, the microwave may completely fail, and you will have to buy a new model. 
Modern microwave models cost a lot of money, especially if we are talking about premium brands like Jenn-Air. No need to take risks! Call a Jenn-Air Microwave Repair and Service technician and he will fix it.
Which employees are we talking about? Let's look at some interesting facts about our repairmen. We have Jenn-Air Microwave Repair specialists with over 20 years of experience (our company opened in 2001). For many years of their work, experts have seen dozens of models of Jenn-Air microwaves. We have restored many old microwaves that were popular 5-7 years ago, and the same number of modern high-tech household appliances. You can trust our experience! 
Our repairmen work especially well with the latest models that have recently appeared on the market. To carry out such repairs as efficiently as possible, employees regularly attend training at manufacturers' factories, where they get acquainted with the latest achievements in the world of electronics. Importantly, our Jenn-Air Microwave Repair and Service technicians work officially. Each employee has a license, certificate and insurance. Experienced repairmen are the main reason why we are considered the best repair company in San Diego County.
Common breakdowns of Jenn-Air microwaves
Under the Jenn-Air logo, modern and high-quality household appliances are produced, but even such equipment sometimes fails. Most often, the cause of breakdowns is the wear of a particular part. Less often, errors in operation are the cause, so we recommend that you carefully read the instructions. 
Look at a few popular breakdowns that customers complain about when ordering Jenn-Air Microwave Repair from our company.
The microwave oven heats food slightly, it remains cold even after a long time.

Sparks appear inside the microwave when the appliance is turned on.

The microwave plate doesn't rotate or rotates intermittently.

Control buttons or displays don't work.

Jenn-Air Microwave Repair and Services

technicians will be able to accurately determine the breakdown and fix it.

You hear a strange sound while the appliance is in operation, or there is smoke in the kitchen.

The microwave has received mechanical damage.

The appliance doesn't turn on at all (in some cases, you just need to change the power cable).

The microwave continues to operate after the selected time has elapsed.
You can order Jenn-Air Microwave Repair from us, whether you found your problem on the list or not. Our specialists carry out Repair of any complexity and are able to work with any model of Jenn-Air microwave oven.
Home Appliance Service Center is a professional service center with 20 years of successful experience. To order Jenn-Air Microwave Repair and Service, you only need to make one call. You can find the phone number on the website. You can also fill out the feedback form, and our specialist will contact you.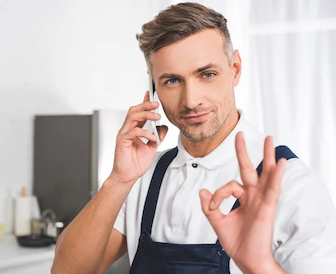 Main Reason to Choose Us
We've been repairing household appliances since 2001. Our experience is your guarantee of quality. We are ready to come to you on the same day and inexpensively carry out high-quality repairs. We use only original spare parts!

Labor Guaranteed
We provide a 90-day warranty on every repair for every client.

Same Day Service
We carry out repairs on the same day you call us in 95% of cases.

Licence & Insured
Each repairman who works for us has a license and insurance.
Choose the brand of your Refrigerator
We repair all popular models of residential appliances from major brands. Find your Refrigerator brand in the list below and click on it for helpful information. Call us or fill out the feedback form, and our repairman will come to you on the same day. Rely on us and we will prove that we are real professionals!