Bosch Microwave Repair
A microwave is not a vital household appliance, but you must admit that we quickly get used to the comfort that this equipment provides. If your microwave oven breaks down, you don't need to endure discomfort, but immediately contact the Home Appliance Service Center. Our experts are able to quickly repair such household appliances, guaranteeing their reliable operation in the future. We won't be unfounded. Look at the benefits you get if you order Bosch Microwave Repair in San Diego County service.
Our main reason for pride is experienced professionals who exceed the expectations of customers. Every Bosch Microwave Repair and Service repairer has more than 20 years of experience (our company was founded in 2001). Each specialist has insurance, a certificate and a license. Extensive experience is a guarantee of quality repair. 
How does it work? For example, the magnetron failed. Our specialist during his work faced all possible breakdowns of this part. Thanks to this, he immediately knows what needs to be done. A Bosch Microwave Repair specialist knows what mistakes to avoid in order not to damage your household appliance. He knows how to make repairs as quickly as possible.
You don't have to worry about the quality of the repair. We use only original spare parts. Our experts at Bosch Microwave Repair and Service know how to tell the difference between a quality part and a counterfeit or defective part. To make sure that the experts provide really the highest level of service. 
You can go to Google or Yelp and read the reviews about the Home Appliance Service Center. We don't ask customers to write comments and don't encourage them to do so. The people we have helped voluntarily willingly share positive feedback, creating an excellent reputation for our company.
We carry out Repair in record time!
Our company is valued by customers who don't like to waste time and want their household appliances to return to their functions as soon as possible. Almost always we are ready to come to the client on the same day. This happens 95% of the time. You need to contact us, answer a few simple questions, and soon the repairman will be at your place. 
He will immediately start diagnosing and repairing. The aforementioned experience and state-of-the-art equipment allow the experts to complete their work at an impressive speed. See for yourself by ordering Bosch Microwave Repair!
The good news for you is that if your case needs a part replacement, you won't have to wait either. We have a modern big warehouse where many spare parts for Bosch household appliances are stored. If there is a need to replace an item, our Bosch Microwave Repair and Services technician will simply go to the warehouse, find the necessary part. And will install it on your device in no time at all. No extra waiting!
The complexity of the repair doesn't matter for us
You can order Bosch Microwave Repair, no matter what kind of breakdown you have. Of course, it is not always possible to restore household appliances, because sometimes they completely fail. However, if theoretically the microwave oven can be repaired, our specialist will do it. Hundreds of customers have already seen this.
Home Appliance Service Center is a professional service center you can trust. To order Bosch Microwave Repair and Service, you need to call the phone number that you can find on the website. There is also a feedback form on the site, where you can leave your details, and our specialist will call you back soon.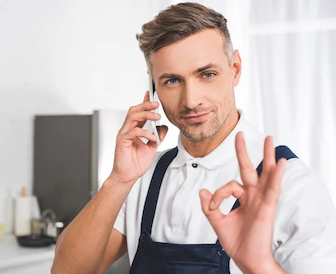 Main Reason to Choose Us
We've been repairing household appliances since 2001. Our experience is your guarantee of quality. We are ready to come to you on the same day and inexpensively carry out high-quality repairs. We use only original spare parts!

Labor Guaranteed
We provide a 90-day warranty on every repair for every client.

Same Day Service
We carry out repairs on the same day you call us in 95% of cases.

Licence & Insured
Each repairman who works for us has a license and insurance.
Choose the brand of your Refrigerator
We repair all popular models of residential appliances from major brands. Find your Refrigerator brand in the list below and click on it for helpful information. Call us or fill out the feedback form, and our repairman will come to you on the same day. Rely on us and we will prove that we are real professionals!