Dryer Repair Service
Such household appliances, like dryers, cannot be found in every flat. But once you try them, you will never want to get back to a traditional way of drying clothes. Thus, when owners of dryers face their device failing, they may get a spoiled mood, plans, or the whole day. When the trouble happens, just take your phone and call Home Appliances Service Center! Our specialists know exactly how to help you. We provide any Dryer Repair in San Diego County in the highest quality, soonest time, and at a fair price.
The most obvious trouble with any appliance is when you just cannot turn it on. But the list of issues happening to the dryer may be much wider. Do not postpone applying for Dryer Repair and Service if you notice anything being wrong, for example:
Clothes remain the same wet as before, not fully dry, or become smelly or damaged.

Drying takes longer than usual, does not start, shuts off without completing, or goes non-stop.

Electricity or gas supply is unstable due to damaged wires, plugs, igniters, or gas safety valves.

It is not heating or heating too much or not enough.

The drum is not spinning.

The body heats too much while working.

It produces unusual sounds (like clicking, humming, gurgling, or thumping), vibrates, shakes, or smells while working.

It needs cleaning for its lint filter, moisture sensor strips, duct system, pipes, hose, or exhaust vent.

Troubles with thermal fuse, thermal resistor, heating element, cycling or high-limit thermostat, timer, start switch, circuit breakers, blower wheel, or motor.

Failed control module, so controllers, timers, touchpads, or buttons are not responding, or the information screen is blank or shows an error.

Mistakes during installation or exploitation.

Body parts, tub, doors (whole assembly, glass, gasket, hinge, springs, joints, locks, latches, handle, door switch), plugs, hoses, leveling feet, belts, glides, drum support rollers, controllers, buttons, knobs, or other elements require replacement.
Mostly, you cannot indicate by yourself what exactly causes the trouble. For that, you can always call our specialist to consult or get remote diagnostics. It is always useful for understanding the situation more clearly. The technicians will quickly find a way to resolve it and announce an approximate cost of such Dryer Repair. After that, you can plan and set the most convenient time when we come to you. 
Almost in all cases, we finish Dryer Repair and Service on the same day when you apply for it. It may happen that your urgent case cannot wait, and you need us during non-working hours or days off. For a bit extra payment, we will be at your place at any required time 24/7. Our local office is always open and ready to serve you at any moment.
Even if your dryer is an old or rare one, it means no obstacles to our specialists! They can deal with all models of all brands, commercial, household, budget, and luxury items! The main reason for that is their extended experience, regular licensing, and great skills, which develop every day. We have selected the best equipment, tools, and materials to conduct all Dryer Repair and Services precisely and swiftly. And we use top-quality spare details, original or top-rank alternatives, to ensure perfect fitting and smooth performance of your item.
Our company has been providing the best Dryer Repair and successfully withstanding competition for more than 20 years so far. So, we know exactly what attitude our clients expect. We are always honest, set fair prices, and want you to be confident in our quality and reliability. Thus, we add a long-term warranty for everything we do. 
Lots of satisfied clients have not regretted choosing us for Dryer Repair! And now they are back to our company in any need and recommend friends to do the same. We have numerous 5-star reviews on Google from our customers, and this amount is growing all the time! For us, it is the best appraisal and sign of the decent level of services we provide.
No matter what and when it happens, you always can rely on our technicians! We conduct top-rank Dryer Repair and Service at a favorable price, the shortest terms, and the most comfortable conditions. The friendly and qualified staff of Home Appliances Service Center is always waiting for your application. All you need is just to contact us, and we will make your appliance work properly again!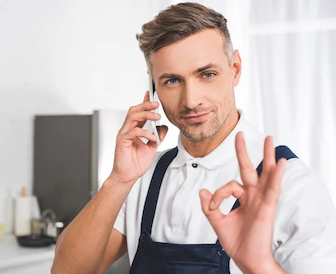 Main Reason to Choose Us
We've been repairing household appliances since 2001. Our experience is your guarantee of quality. We are ready to come to you on the same day and inexpensively carry out high-quality repairs. We use only original spare parts!

Labor Guaranteed
We provide a 90-day warranty on every repair for every client.

Same Day Service
We carry out repairs on the same day you call us in 95% of cases.

Licence & Insured
Each repairman who works for us has a license and insurance.
Choose the brand of your Dryer
We repair all popular models of residential appliances from major brands. Find your Dryer brand in the list below and click on it for helpful information. Call us or fill out the feedback form, and our repairman will come to you on the same day. Rely on us and we will prove that we are real professionals!