Sharp Dryer Repair
Most owners of Sharp equipment are satisfied with their unit, which means that in the event of a breakdown, it is advisable to fix it rather than buying a new one. But how to choose the best service center? The ApHome Appliance Service Center is the exact match for everything customers need when they need the most reliable, fastest and most cost-effective Sharp Dryer Repair in San Diego County!
The best idea when your appliance is not working as it should be is to consult with a Sharp Dryer Repair and Service. By calling us, you can do that for free, and get remote diagnostics, which is a quick and convenient way to find out what exactly is wrong, how to resolve the issue, and what the approximate cost of such work is. 
In over 20 years of facing breakages of different complexity in all models of dryers, including the rarest and oldest ones, our Sharp Dryer Repair gained precious experience, sharp skills, and a perfect understanding of the functioning and structure of dryers, which means the quickest and most reliable solutions for any situations. 
Add to that the best equipment, tools, materials, and original spare details, and you get our formula for a brilliant result! After our staff completes Sharp Dryer Repair and Service for you, you will never see any imperfections in its work, and to solidify this, we always provide a long-term warranty for every action.
Dryers mostly have one major function, so when they stop drying clothes, it is pretty clear that the assistance of a Sharp Dryer Repair is needed. Still, you can also have different issues, which should be eliminated to make your usage of this appliance the most effective, for example:
The appliance cannot be turned on at all;

The door is cracked, its gasket is worn off, the interlock is out of order, or the hinge is deformed, so it cannot be tightly closed or latched;

The drying cycle stops without completing, takes too long, or shuts off abruptly;

clothes go out wet, ripped, or smell bad;
It is not heating, or does it too much;

The drum is not spinning;

The appliance makes gurgling, clicking, humming, or thumping sounds, or vibrations;

You smell gas or burn (especially dangerous with gas-type dryers!);

Gas or electricity supply disturbed (spoiled wires, plugs, igniter);

The tub is broken, smells bad, or is covered with mold;

Information screen malfunctions or does not work at all;

Controlling module fails, so timers and controllers do not let you adjust needed settings, work wrong, or do not work at all;

Troublesome hardware parts (start switch, thermal resistor, cycling or high-limit thermostat, heating element, motor, timer, blower wheel, fuse, or circuit breakers);

Lint filter, moisture sensor strips, exhaust vent, ducting system, pipes, or hoses are clogged and need cleaning;

Need to replace buttons, handles, knobs, seals, belts, drum support rollers, leveling feet, glides, switchers, flashing lights, or other details.
Any breakage can be eliminated within a day, as we are always ready to send our Sharp Dryer Repair and Services from a local department to your address. For even more urgent cases, we have an additional feature for a small extra cost, which means the departure of our worker to you in 15 minutes after your call at any moment, even during non-working hours or days off.
An absolute majority of our customers are happy with choosing our company, as we offer the highest quality of Sharp Dryer Repair for a favorable price, our team is always friendly and polite, and we provide a guarantee for all the work we do! 
These and other benefits of applying to us are reasons why our clients recommend us to friends and leave positive reviews on the net.
If you are looking for the most reliable Home Appliance Service Center, you now know what to do! Just call Sharp Dryer Repair and Service or place an online application, and we will take care of all the rest, thus your appliance will perform like a brand new one really soon!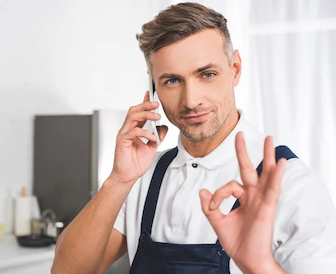 Main Reason to Choose Us
We've been repairing household appliances since 2001. Our experience is your guarantee of quality. We are ready to come to you on the same day and inexpensively carry out high-quality repairs. We use only original spare parts!

Labor Guaranteed
We provide a 90-day warranty on every repair for every client.

Same Day Service
We carry out repairs on the same day you call us in 95% of cases.

Licence & Insured
Each repairman who works for us has a license and insurance.
Choose the brand of your Refrigerator
We repair all popular models of residential appliances from major brands. Find your Refrigerator brand in the list below and click on it for helpful information. Call us or fill out the feedback form, and our repairman will come to you on the same day. Rely on us and we will prove that we are real professionals!