Jenn-Air Dryer Repair
When your dryer breaks down, of course you want it to start working properly as soon as possible. The failure of such household appliances is a serious discomfort because clothes dry much longer, and you need to find a special place where your T-shirts and pants will dry. No need to waste time! Call the Home Appliance Service Center as soon as you notice that your home appliances are not working properly. If you use Jenn-Air Dryer Repair in San Diego County service, you will receive a 90-day warranty.
We are available 365 days a year, so you can call us at any time and get useful advice. If the failure occurs again, our specialist will come to you and quickly solve your problem. However, the recurrence of a breakdown is very rare, because we use original spare parts that guarantee reliable operation of the equipment after the Jenn-Air Dryer Repair and Service is completed.
Our repairmen are real experts in the world of Jenn-Air home appliances
The great advantage of our specialists is that they have extensive experience in repairing Jenn-Air products. The fact is that in the modern world, household appliances from each company have their own specifics. It is very important to be aware of these subtleties if you want to carry out Jenn-Air Dryer Repair efficiently and according to all the rules.
Our company started its work in 2001. For over 20 years, we have come across a wide variety of Jenn-Air dryer models. Our repairmen have restored both old dryers and new models, which are distinguished by their complex design and modern components. If you use the Jenn-Air Dryer Repair and Service, you will get help from an expert who perfectly knows how to work with your dryer.
Each of our experts has a license, certificate, and insurance. Specialists don't stand still and constantly develop their skills. For example, they regularly attend training at the factories of manufacturers of household appliances. 
What for? Firstly, they do it to get the latest information from the world of high technology. Secondly, specialists work on the most modern equipment, and this is a very valuable experience in Jenn-Air Dryer Repair.
About the situations where we can help you
Our specialists carry out Repair of any complexity. Whatever happens to your dryer, call us and we will help you. In some situations, a light repair is enough, and sometimes a replacement of detail is required. In both cases, the repairmen do their job quickly.
Here are the breakdowns that customers who use the Jenn-Air Dryer Repair and Services often complain about:
The dryer is overheating.

The appliance doesn't heat up the clothes enough, which takes a long time to dry.

The dryer doesn't turn on or turns off spontaneously.

There is a burning smell.

The dryer makes too much noise during operation.

The household appliance vibrates strongly.
Jenn-Air Dryer Repair can fix the problem without any loss of quality.
If you find your problem on the list, or if you have some other breakdown, don't waste your time. Use our Jenn-Air Dryer Repair and Service right away. You can find the phone number on the website. You can also order a callback, and the Home Appliance Service Center will contact you.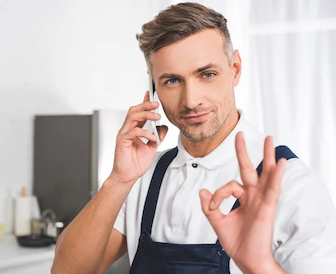 Main Reason to Choose Us
We've been repairing household appliances since 2001. Our experience is your guarantee of quality. We are ready to come to you on the same day and inexpensively carry out high-quality repairs. We use only original spare parts!

Labor Guaranteed
We provide a 90-day warranty on every repair for every client.

Same Day Service
We carry out repairs on the same day you call us in 95% of cases.

Licence & Insured
Each repairman who works for us has a license and insurance.
Choose the brand of your Refrigerator
We repair all popular models of residential appliances from major brands. Find your Refrigerator brand in the list below and click on it for helpful information. Call us or fill out the feedback form, and our repairman will come to you on the same day. Rely on us and we will prove that we are real professionals!