KitchenAid Dryer Repair
Unfortunately, the experience of using KitchenAid dryers is not always easy and pleasant, as things often go wrong, and it is soon necessary to find reliable help. If you need a reliable and fast solution, the Home Appliance Service Center is exactly what you need! Our team of highly trained technicians performs the best KitchenAid Dryer Repair in San Diego County in the shortest possible time.
A comfortable usage of your dryers depends on many factors, starting with its appearance and finishing with the quality of its functioning. Even a cracked handle or a scratched surface may already spoil it for some people. 
For such connoisseurs of a perfect condition of his appliances, KitchenAid Dryer Repair and Service pick and replace any spoiled outer parts, like surfaces, door, handles, indicators, knobs, buttons, and switchers. 
But there is a whole range of troubles, which influence the result of a dryer's work, like when belts, leveling feet, door gaskets, glides, drum support rollers, the lid switch are worn out, or when the lint filter, exhaust vent, duct, pipes or hoses are dirty or clogged. 
Cleaning and replacing those parts may seem to be not difficult, but they are essential actions if you want your dryer to run perfectly, and our KitchenAid Dryer Repair do that all the most accurately and proficiently. 
And the most serious breakages always require only a qualified and experienced person to deal with them, as without special knowledge you may harm yourself or spoil the appliance even more. 
Every technician in our company has over 20 years of experience in KitchenAid Dryer Repair and Service for all models regardless of how rare or old they are, so detecting hardware trouble and resolving it is an easy task! You will need to apply for the help the soonest time as you see your dryer:
Cannot be turned on or off;

Pauses itself while working or does not stop the process at all;

Does not heat/dry clothes;

Has its drum not spinning;

Spoils your clothes and makes them smell bad;

Makes wrong sounds, vibrations, or moves around while drying;

Has a dysfunctional control panel;

Has disturbed electricity (wires, plug) or gas (igniter) supply.
Most of these troubles are caused by some of the inner details being out of order, for example, spoiled motor, fuse or circuit breakers, start switch, blower wheel, cycling and high-limit thermostat, thermal resistor, coils, timers, or controllers. 
To make KitchenAid Dryer Repair  work properly again, we use original spare details and professional equipment, so precise and solid work is guaranteed!
To understand exactly what procedure is needed for your dryer, how serious it is, and how much it would cost, we recommend you to call our friendly KitchenAid Dryer Repair and Services.
There you will receive a free consultation on any aspect of KitchenAid KitchenAid Dryer Repair or remote diagnostics. After the situation is cleared up, you can choose any convenient time when you want the technician to come to your home. 
He can be there at the earliest time your business is urgent (especially if you have a gas dryer) as we are available 24/7, with a slightly faster rate during off hours. As a rule, we do the work for you during the day, and we always set the most honest prices.
Home Appliance Service Center provides only high-quality and reliable KitchenAid Dryer Repair and Service, which is proven by the tons of satisfied clients we have. They notice our careful and friendly attitude also while writing positive reviews about our work and telling friends about it. We are ready to show the best level of repair for everyone, so all you need is just to contact us anytime and get a brilliant result with a long-term warranty!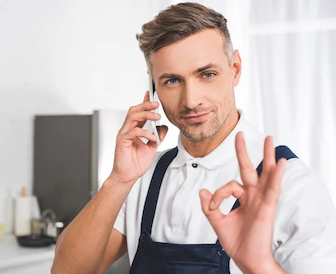 Main Reason to Choose Us
We've been repairing household appliances since 2001. Our experience is your guarantee of quality. We are ready to come to you on the same day and inexpensively carry out high-quality repairs. We use only original spare parts!

Labor Guaranteed
We provide a 90-day warranty on every repair for every client.

Same Day Service
We carry out repairs on the same day you call us in 95% of cases.

Licence & Insured
Each repairman who works for us has a license and insurance.
Choose the brand of your Refrigerator
We repair all popular models of residential appliances from major brands. Find your Refrigerator brand in the list below and click on it for helpful information. Call us or fill out the feedback form, and our repairman will come to you on the same day. Rely on us and we will prove that we are real professionals!