Viking Microwave Repair
Viking microwaves are known as pretty reliable items, but mostly the satisfaction with them ends when the need to apply customer care service appears. Home Appliance Service Center has a better way out of any situation when your appliance fails. Since 2001 we have been the most reliable provider of high-quality Viking Microwave Repair in San Diego County at the most affordable prices and timing.
As soon as you notice even the smallest unpleasant sign from your microwave, get a consultation or diagnostics from Viking Microwave Repair and Service professionals. As minor issues often lead to bigger ones, or even cause the whole appliance to fail, and dealing with that by yourself is not always rational, and without proper skills and knowledge, you risk spoiling the appliance even more, hurting yourself and wasting much time. 
We offer those phone assistance for free, and after a short talk with our technician, you will be fully aware of the reason for such behavior of your item, the best way to make it back to normal, and the approximate price of such a work. 
Our rates are always fair and affordable, and we do not take orders, which are not cost-effective, like when you have to pay for the repair of more than 50% of the cost of a new appliance. Our craftsmen at Viking Microwave Repair can be trusted. 
What bad signs may become the reason to apply for Viking Microwave Repair and Service? The list is pretty long, the most common issues with these appliances are:
It is not possible to turn it on or off;

The turntable is not spinning;

The door cannot be closed, opened, or locked normally;

Buttons, knobs, control board, touchpad malfunction, have a bad connection, the screen shows an error or any of that (or all together) parts do not work at all;

Inner or outer lights do not shine or are blinking;

The heating cycle does not stop when it should, or stops in a few seconds without completing;

The microwave heats worse, too much, too slow, uneven, or does not do it at all;

While working, it buzzes or vibrates, or gives out burning or electrical odors, smoke, sparks, or arcs;

Roller ring, rack-mount, coupler, wires, plugs, door glass, latches, locks, switches, hinges, joints, springs, or gaskets are warped or damaged;

Magnetron, diode, waveguide, thermal fuse, thermo protector, cooling fan, high voltage capacitor or transformer, drive motor, or main control board out of order;

The heating tank or air vent is obstructed with grease and dust or damaged.
Any of those issues may be resolved within a day, as our local office is anytime accepting your application and ready to help you out and conduct Viking Microwave Repair in the most responsible and comfortable way for you! 
Even for emergencies, we are always around and offer the most speedy option for just a small extra fee! This means that at any moment, even during non-working hours or days off, our Viking Microwave Repair and Services technician will rush to you. 
Do not worry if your microwave is too old or rare, as, with 20+ years of experience, our Viking Microwave Repair specialists easily deal with breakages of any complexity for all models of microwaves. Their skills, knowledge, and proficiency are on the highest level, so the result of the work is always perfect! 
Professional materials, tools, and equipment of premium rank, together with original spare details, help to reach even more precise work of the highest quality. Still, for your calmness, we back it up with a long-term guarantee, as we are in charge of what we promise and do.
Providing a warranty is nice, but we think that there is another, more significant indicator of the reliability of the service center. The talk is about the opinion of ones, who have already applied to the company and can objectively estimate its work. 
Happy to say that our customers are fully satisfied with the quality, attitude, and client focus we have. We see it often in their reviews on Google and hear it from people, who apply to us because a friend/relative/colleague recommended it.
Home Appliance Service Center has proven its professionalism and reliability over time. If you are looking for the best quality, most affordable prices, minimum expectancy time, and the most caring approach for Viking Microwave Repair and Service, you have already found a perfect option! Just call us or place an online application on our website, and soon your appliance will be performing like a brand new one!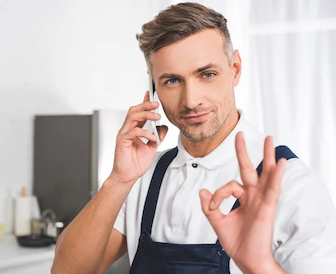 Main Reason to Choose Us
We've been repairing household appliances since 2001. Our experience is your guarantee of quality. We are ready to come to you on the same day and inexpensively carry out high-quality repairs. We use only original spare parts!

Labor Guaranteed
We provide a 90-day warranty on every repair for every client.

Same Day Service
We carry out repairs on the same day you call us in 95% of cases.

Licence & Insured
Each repairman who works for us has a license and insurance.
Choose the brand of your Refrigerator
We repair all popular models of residential appliances from major brands. Find your Refrigerator brand in the list below and click on it for helpful information. Call us or fill out the feedback form, and our repairman will come to you on the same day. Rely on us and we will prove that we are real professionals!