Jenn-Air Dishwasher Repair
Jenn-Air is considered one of the best brands in the premium segment of the home appliance market. The American company produces modern, high-tech equipment, uses complex parts and construction solutions. If your dishwasher breaks down, let the Home Appliance Service Center repair it. We have more than 20 years of experience, which is our great advantage. When you use Jenn-Air Dishwasher Repair in San Diego County service, you'll get help from professionals. 
Moreover, experts work on the latest equipment to "convert" theory into practice. We provide Jenn-Air Dishwasher Repair and Service to every customer with a 90-day warranty. We don't leave you alone with potential problems. You can count on us!
A few words about the advantages of our company
High quality repair is not only in your interests, but also in our interests. We want our customers to recommend us to their friends, not to spoil the impression of the company by using the warranty. To improve the quality of Jenn-Air Dishwasher Repair, we use only original spare parts. It is very important! 
Yes, an original spare part and a fake one may look the same, but they have different technical characteristics. The main thing is that a non-original part has a shorter service life, which forces the owner of household appliances to carry out repairs more often.
If you order Jenn-Air Dishwasher Repair and Service from our company, you will be protected from low quality parts and fakes. You can trust our professionalism!
Another good news is that in most cases we already have these spare parts in a warehouse. This means that we can start repairing right away, rather than ordering the item and waiting for delivery. This feature has a positive effect on the timing of the work. We don't let our clients waste time.
The advantage of our specialists is that we carry out Repair of any complexity. You can contact us for help, no matter what the situation is. In addition, we work with all models of Jenn-Air dishwashers. We don't care what year your model was made. Jenn-Air Dishwasher Repair in any case will be carried out qualitatively, in accordance with all the rules!
You want to ask us a question about the work of the company, about specialists or about a specific service? Call us any day. We are ready to provide you with all the necessary information.
Common breakdowns of Jenn-Air dishwashers
As we've already said, we've been repairing household appliances for more than 20 years (the company was founded in 2001). During this time, we have encountered a variety of breakdowns: these were both simple situations and situations where the "life" of a household appliance hung in the balance. 
Call a Jenn-Air Dishwasher Repair and Services technician to find the cause, tighten anything that's loose, and replace the failed parts.
Let's look at some of the most common issues that Jenn-Air Dishwasher Repair customers complain about.
The dishwasher doesn't turn on.

Water is not drained into the sewer after completion of work.

Water doesn't go inside the dishwasher.

The water is too hot or too warm.

There is a strange noise.

There is a burning smell.

Control buttons don't work.
You don't need to delve into the technical nuances yourself. Just use our Jenn-Air Dishwasher Repair and Service. Call the phone number listed on the site or use the feedback form. Home Appliance Service Center almost always comes to the client on the same day, so you can count on lightning-fast assistance.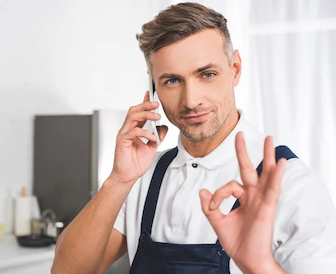 Main Reason to Choose Us
We've been repairing household appliances since 2001. Our experience is your guarantee of quality. We are ready to come to you on the same day and inexpensively carry out high-quality repairs. We use only original spare parts!

Labor Guaranteed
We provide a 90-day warranty on every repair for every client.

Same Day Service
We carry out repairs on the same day you call us in 95% of cases.

Licence & Insured
Each repairman who works for us has a license and insurance.
Choose the brand of your Refrigerator
We repair all popular models of residential appliances from major brands. Find your Refrigerator brand in the list below and click on it for helpful information. Call us or fill out the feedback form, and our repairman will come to you on the same day. Rely on us and we will prove that we are real professionals!