Avanti Dishwasher Repair
If you have a problem with Avanti dishwasher, we recommend using the services of the Home Appliance Service Center. We have an Avanti Dishwasher Repair in San Diego County service that has been used by hundreds of customers. You can read their reviews on Google and Yelp. We make every effort to ensure that every client is satisfied with our services, and we do it perfectly!
Fast repair with a guarantee of quality. What more could you want?
We are sure that washing dishes with your own hands does not bring you any pleasure, right? Our experts are ready to quickly relieve you of such discomfort. If you don't like wasting time and want your dishwasher back to work as quickly as possible, order Avanti Dishwasher Repair and Service.
In 95% of cases, our repairmen come to customers on the same day. In general, punctuality and promptness are great advantages of our company's specialists. The expert immediately gets to work. Experience and modern equipment allow us to do this very quickly. After the specialist has found the cause of the breakdown, he proceeds to the Avanti Dishwasher Repair itself. 
Even if a part replacement is required, in most cases, the client doesn't have to wait, as we have a lot of spare parts for Avanti household appliances in a warehouse. The warehouse also stores equipment for diagnostics and Avanti Dishwasher Repair and Service, so we are always ready for any development.
By working quickly, our experts don't sacrifice quality. For your peace of mind, we provide you with a 90-day warranty. 3 months is more than enough time to make sure that the Avanti Dishwasher Repair is carried out correctly. We are in touch every day. 
If you have any questions, you can call us on weekends and holidays. If the failure recurs, our specialist will still quickly solve your problem. However, the risk of this is negligible, as practice shows.
Common breakdowns of Avanti dishwashers
Our company began its work in 2001, and for more than 20 years we've faced a variety of breakdowns. Look at the popular issues. However, we note that you can use the Avanti Dishwasher Repair and Services whatever the problem is.
The dishwasher doesn't drain water after it has finished working.

The water in the dishwasher is too hot or too cold, the appliance doesn't respond to the owner's selection of a different temperature.

The dishwasher doesn't fill with water.

The appliance makes a strange noise during operation.

There is a burning smell.
Our repairmen are like experienced doctors. Once they've listened to the "symptoms", they already know roughly what's wrong with your dishwasher. By conducting a thorough diagnosis, they confirm or refute their guesses and start Avanti Dishwasher Repair.
If you use Avanti Dishwasher Repair and Service, you will get help from real professionals who are licensed and insured. Give Home Appliance Service Center a call or request a callback using the feedback form on the website.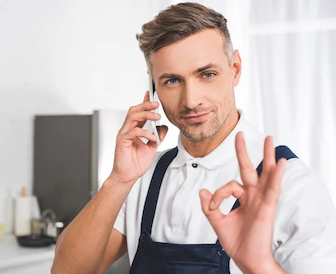 Main Reason to Choose Us
We've been repairing household appliances since 2001. Our experience is your guarantee of quality. We are ready to come to you on the same day and inexpensively carry out high-quality repairs. We use only original spare parts!

Labor Guaranteed
We provide a 90-day warranty on every repair for every client.

Same Day Service
We carry out repairs on the same day you call us in 95% of cases.

Licence & Insured
Each repairman who works for us has a license and insurance.
Choose the brand of your Refrigerator
We repair all popular models of residential appliances from major brands. Find your Refrigerator brand in the list below and click on it for helpful information. Call us or fill out the feedback form, and our repairman will come to you on the same day. Rely on us and we will prove that we are real professionals!