Miele Dishwasher Repair
The dishwasher is one of the most effective devices for saving our time. This forces us to be especially careful when choosing the best, striving Miele products fully meet the needs of many customers around the world. One of the responsibilities that comes with buying a dishwasher is that a well-maintained appliance requires decent maintenance and expert service when something starts to go wrong. The Home Appliance Service Center is ready to take care of your electronics at any time, providing fast, economical and reliable Miele Dishwasher Repair in San Diego County. 
We know for sure that the dishwasher is one of those appliances, which are needed to be working properly always. We do not want you to spend time expecting assistance, so after you apply to us, the trouble will be solved the same day, and for an extra fee, it is possible to make it even sooner for any urgency and during non-working periods. We are available for you 24/7 and due to being a local department, we do not waste hours on the way to your house.
But the acquaintance with our highly skilled and professional team may start even sooner than the specialist arrives at your address. You can get a free qualified consultation first and get a remote diagnostics conducted, so even through the phone call, our Miele Dishwasher Repair and Service master can detect what is the reason for the breakage, what is required for its repair, and how much it would cost. 
After that, you set a wanted time and our punctual technician will come to you exactly when needed, having the set of professional equipment and original spare details to provide you with the most precise, neat, and fast Miele Dishwasher Repair. No matter what is the model of your appliance and how difficult the situation is, after over 20 years of experience in this field, any trouble will be solved easily.
Most of the problems that Miele Dishwasher Repair and Service technicians have to fix for our customers are caused by improper maintenance. Therefore, if the dishwasher has dirty pipes, hose, filters, sump trainers, or spray arm, you may face the next unpleasantries:
Water or detergent supply is spoiled - so the dishes remain dirty;

The dishwasher has a bad smell;

The appliance isn't draining or even leaks water or foam outside;
These issues may have other reasons, such as troubles with inner mechanisms and electronic parts, like spoiled water inlet, motor, pump, thermostat, heating element, timers, or controllers. It makes a list of problems wider, so you also may want to get Miele Dishwasher Repair if you face:
Wrong sounds or vibrations while the item is working;

The body heats too much;

Washing process stops too early, takes too long, or does not stop at all;

Water does not stop filling;
So you may need to have those parts, or less vital ones, like handle, kind, buttons, switchers, cutlery basket, leveling foot, slide arm, holders, and bulbs replaced. Don't wait too long to call Miele Dishwasher Repair and Services. 
To be sure that every work we do is reliable and of the best quality, we carefully listen to what our customers say. They share many positive reviews, but what is a better sign than words, they also apply to us again and recommend friends in need to do the same. Our Miele Dishwasher Repair craftsmen are the best of the best
Home Appliance Service Center has proven its professionalism and reliability over time.  Anytime when you want to get the most reliable Miele Dishwasher Repair and Service without spending much time and money, to feel the friendliest attitude and receive a long-time warranty for completed repair - feel free to contact us and we will rush to help you!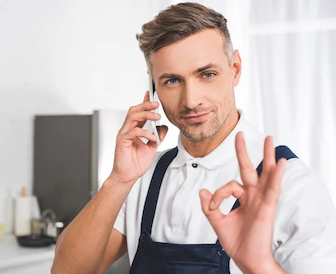 Main Reason to Choose Us
We've been repairing household appliances since 2001. Our experience is your guarantee of quality. We are ready to come to you on the same day and inexpensively carry out high-quality repairs. We use only original spare parts!

Labor Guaranteed
We provide a 90-day warranty on every repair for every client.

Same Day Service
We carry out repairs on the same day you call us in 95% of cases.

Licence & Insured
Each repairman who works for us has a license and insurance.
Choose the brand of your Refrigerator
We repair all popular models of residential appliances from major brands. Find your Refrigerator brand in the list below and click on it for helpful information. Call us or fill out the feedback form, and our repairman will come to you on the same day. Rely on us and we will prove that we are real professionals!