White-Westinghouse Stove Repair
Without a doubt, you want your appliance to function perfectly at all times, so in unusual situations, when something goes wrong, the first thing you need is a fast and reliable solution. Home Appliance Service Center is an absolute match, as our company specializes in the highest-quality White-Westinghouse Stove Repair in San Diego County at affordable prices and the shortest terms!
It is hard for us to imagine such a breakdown or malfunction that we have not encountered in more than 20 years of daily White-Westinghouse Stove Repair and Service of all models of furnaces of different condition, age and uniqueness. 
Together with many years of experience, our technicians have also acquired excellent skills and a complete understanding of how any stove is built and how it works, so knowing this allows them to quickly find breakdowns and carry out White-Westinghouse Stove Repair. 
To guarantee even more precise, solid, and swift work, we use only professional equipment and materials of the highest quality and original spare parts and details. In cases when needed White-Westinghouse Stove Repair and Service indicators, knobs, handles, igniter, or control board, you may be calm about getting genuine perfectly fitting ones, so the appliance will function like a brand new!
The replacement is not always needed, as cleaning the gas ports, vent tube, and convention fan from dust and dirt resolves troubles with heaters and burners as well. 
To understand exactly which procedures are required, the best idea is to call us and ask for a consultation or diagnostics, so our specialist will be able to understand what happened, how to fix it, and how much your  White-Westinghouse Stove Repair would cost. 
To clarify it, you would just need to tell us about the signs shown by your stove, like:
The burners clicking while turning on;

The flame is yellow or orange;

The fire goes out itself, flickers, or sparkles;

While the stove is on, it vibrates, buzzes, or produces unusual noises;

The very appliance cannot be turned on or off at all;

You smell gas or burn;

Heating elements cannot give out the needed temperature and you cannot adjust it.
Solving these or other issues usually takes less than a day for us so you get your stove working properly again sooner than start feeling inconvenienced because of its breakage. Emergent arrival of the specialist who specializes White-Westinghouse Stove Repair and Services in at any time of day or night is possible as well, just for a small extra cost. 
It may worry you if all those great features we mention are true. Easy to prove, as our satisfied clients leave many positive reviews about us on google! Plus, you will be protected with a long-term warranty, as we are in charge not only of what we say, but also of what we do. If you can't fix it yourself or figure out what's causing the problem, call White-Westinghouse Stove Repair.
Friendly, polite, accurate, fast, and fair - that is what people say about our technicians. If you want such professionals to provide you with a top-rank White-Westinghouse Stove Repair and Service, just contact Home Appliance Service Center by phone or online application form and our helpers will rush to make your stove work perfectly!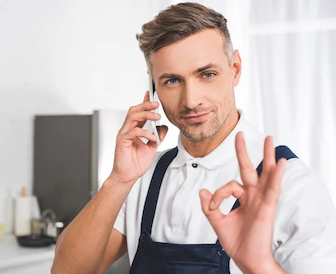 Main Reason to Choose Us
We've been repairing household appliances since 2001. Our experience is your guarantee of quality. We are ready to come to you on the same day and inexpensively carry out high-quality repairs. We use only original spare parts!

Labor Guaranteed
We provide a 90-day warranty on every repair for every client.

Same Day Service
We carry out repairs on the same day you call us in 95% of cases.

Licence & Insured
Each repairman who works for us has a license and insurance.
Choose the brand of your Refrigerator
We repair all popular models of residential appliances from major brands. Find your Refrigerator brand in the list below and click on it for helpful information. Call us or fill out the feedback form, and our repairman will come to you on the same day. Rely on us and we will prove that we are real professionals!