Samsung Stove Repair
This brand adds a lot to the price of equipment for the excellent reputation of the company name, so the happy owners of Samsung electronics are especially concerned about the best solutions in case of any breakdowns or malfunctions. Home Appliance Service Center helps all customers to feel the maximum benefits from using such premium-class appliances for over 20 years so far. Applying to us, you may be calm about the quality and speed of the Samsung Stove Repair in San Diego County.
We strongly believe that any Samsung appliance should be maintained and Samsung Stove Repair and Service only by the most proficient specialists most responsibly and carefully, as the decent quality of the item deserves the same decent service. And we are glad to claim that our team is a total match! 
These are not just empty words, as our company has vast experience, customer service, and a huge amount of satisfied clients, who recommend us to others and share positive reviews, which you can find on Google anytime. What are they so happy with? 
Quality
We have been working with Samsung ovens since 2001 and learned all the peculiarities of their construction and functioning. Every day the skills and proficiency of our technicians are only growing, and they are always up-to-date with new technologies and appliances. 
With that all, each of our technicians knows everything about this topic, being able to detect and resolve the problem in no time, precisely and neatly. To boost the quality of Samsung Stove Repair, we use only the best professional tools and quality, together with original spare parts and details.
Speed
In over 95 percent of cases, the work is completed within a day when you apply for it, as we care about your time and never want you to feel much discomfort because of your appliance standing aimlessly in your house. You can also order an urgent arrival of the technician who specializes in Samsung Stove Repair and Service at any time of day or night for a little additional cost. 
As the technician comes to your place, the work will be done quickly as well, as all our staff are real professionals and always know what to do in any difficulty that happens to any Samsung stove. This may be also speeded up if you get remote diagnostics beforehand, and we figured out which details are needed, what caused the breakage, and if the approximate price satisfies you.
Price
We know for sure that the repair should be only cost-effective, and if not - we will let you know. Normally it does not happen this way and we can find a perfect solution and set a fair price for that, as we believe that your appliance should be serving your needs, but not taking away tons of your money.
The most expensive Samsung Stove Repair you may face is a replacement of convection fan motor, processor, control block (power board), grill element, induction and heating elements (coil rings), and such accessories like oven racks, griddles, and woks, or the door (whole assembly or the glass), but that is still much cheaper than buying a new appliance. 
Changing them to new ones may solve a whole range of troubles, like too long heating or not heating at all of inner elements or burners, the flame going out itself or flickering, the controllers and timers not working, not a possibility of adjusting a needed temperature or turning the oven on.
Another type of trouble is smaller but they still influence the functioning of your oven. They include broken door hinges or drawer mechanisms, obstructed gas lines, vent tubes or convention fans, burned-out bulbs or indicators, lost or spoiled handles, knobs, buttons, switchers, grates, burner caps, convection baffles, or fan blades. 
A technician who specializes in Samsung Stove Repair and Services can determine the cause and repair the problem.
If you notice those troubles, strange noises or smells from your stove, troubles with electricity or gas supply, or any other issues, you should always apply to professionals, as dealing with that yourself will not waste much time, but also may become a danger for you or your appliance. If you can't fix it yourself or figure out what's causing the problem, call Samsung Stove Repair.
Feel free to call Home Appliance Service Center for diagnostics or leave the application whenever you need it. Our staff is 24/7 ready to be there in any need and provide you with the most qualified Samsung Stove Repair and Service in the shortest terms!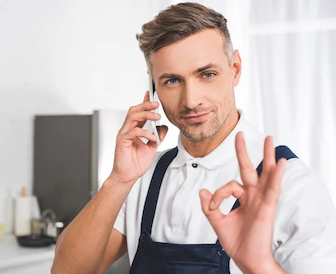 Main Reason to Choose Us
We've been repairing household appliances since 2001. Our experience is your guarantee of quality. We are ready to come to you on the same day and inexpensively carry out high-quality repairs. We use only original spare parts!

Labor Guaranteed
We provide a 90-day warranty on every repair for every client.

Same Day Service
We carry out repairs on the same day you call us in 95% of cases.

Licence & Insured
Each repairman who works for us has a license and insurance.
Choose the brand of your Refrigerator
We repair all popular models of residential appliances from major brands. Find your Refrigerator brand in the list below and click on it for helpful information. Call us or fill out the feedback form, and our repairman will come to you on the same day. Rely on us and we will prove that we are real professionals!