Magic Chef Stove Repair
The quality of this Magic Chef company is time-tested, but no matter what magic spells they use, nothing can protect even the best equipment from accidents or other external factors, so sooner or later people are faced with the need to repair their furnaces. The wizards at our Home Appliance Service Center are available 24/7 to take care of broken appliances for you whenever you're looking for the most reliable, affordable, and fastest Magic Chef Stove Repair in San Diego County.
We have been familiar with appliances of this manufacturer since the very beginning of our work in 2001 and had over 20 years to get highly experienced, to sharpen our skills to know perfectly all possible problems with any model of Magic Chef Stove Repair and Service, as their construction and functioning is perfectly learned by our hardworking specialists. 
We have successfully provided tons of customers with all types of Magic Chef Stove Repair and solved any breakages. 
Some of the most often happening of them are:
Stove not willing to turn on/off;

Gas or electricity is not supplied, as wires, plug, or igniter are damaged;

The flame goes out itself, gets yellow or orange, burner flickers or clicks;

Pans get a black bottom after being used on your stove;

Induction coil, broiler or heating element, or thermostat failed;

Heat or flame is too low or too heavy, and you cannot adjust it, as the control pad or switchers are out of order;

The door cannot be properly closed or opened, having the hinge spoiled or glass broken;

Any surface elements are cracked;

Need to clean or replace convection fan or baffle, fan blades, vent tube, or gas lines;

lost or spoiled buttons, knobs, switches, drawer mechanisms, grates, and burner caps;

Burned-out indicators or bulbs;

You smell gas or burn;

while the stove is on, you hear strange noises or vibrations.
These and other problems can be handled by our Magic Chef Stove Repair and Service  specialists.
With all the proficiency of our technicians and the best professional tools together with original best-fitting spare details, we are always sure that after our work you will get your appliance work like a brand new one, facing no creaking or wobbling. That is proven by tons of our satisfied clients and backed up with a long-term warranty for each work we do.
Besides the highest reliability of the Magic Chef Stove Repair we provide, our customers also adore how quickly we react to the application, as we always aim to complete your task the same day, even if it is a day off or if you need us urgently during non-working periods. 
An emergency fee is not too high, but it makes you sure of the minimum time of expectation and the soonest arrival of our professional. In any case, we stand to be fair with you, so our prices are the most favorable and affordable. 
What goes without saying, in case we indicate your appliance to be beyond Magic Chef Stove Repair and Services or the work is going to be not cost-effective, we will honestly say it to you and help to choose the best replacement depending on your requirements and budget.
If you can't fix it yourself or figure out what's causing the problem, call Magic Chef Stove Repair.
Do you still have any doubts or questions, want to find out the approximate price of the repair, or are ready to apply for Magic Chef Stove Repair and Service? Call Home Appliance Service Center anytime and get a free consultation or remote diagnostics, conducted by the most qualified specialists, who are ready to assist you at any time and in any situation quickly, responsibly, and at a low price!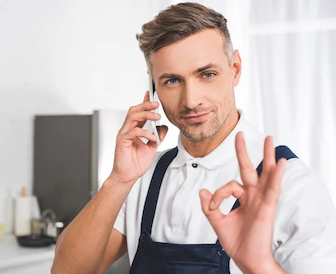 Main Reason to Choose Us
We've been repairing household appliances since 2001. Our experience is your guarantee of quality. We are ready to come to you on the same day and inexpensively carry out high-quality repairs. We use only original spare parts!

Labor Guaranteed
We provide a 90-day warranty on every repair for every client.

Same Day Service
We carry out repairs on the same day you call us in 95% of cases.

Licence & Insured
Each repairman who works for us has a license and insurance.
Choose the brand of your Refrigerator
We repair all popular models of residential appliances from major brands. Find your Refrigerator brand in the list below and click on it for helpful information. Call us or fill out the feedback form, and our repairman will come to you on the same day. Rely on us and we will prove that we are real professionals!